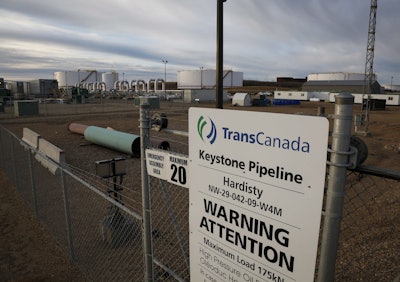 An oil leak discovered over the weekend in TransCanada's Keystone pipeline likely spilled about 400 barrels — or 16,800 gallons.
The leak, located near Freeman, South Dakota, prompted the company to shut down the portion of the Keystone pipeline between Canada and Oklahoma on Monday. Operations of the Gulf Coast Keystone in southern Oklahoma and Texas have continued.
To investigate the cause and scope of the leak, TransCanada excavated soil surrounding 275 feet of the pipe. At first, the company estimated that only 187 gallons escaped, but the investigation revealed an amount about 90 times greater. However, the company's specialists say there is no "significant environmental impact" and no threat to the public.
Earlier today, the crews also found the source of the leak and are currently evaluating repair options with help from the Pipeline and Hazardous Materials Administration, an emailed press release stated. After the pipeline is repaired, it will be returned to service.
TransCanada also said that clean-up and land restoration are already underway.
Considering the oversupply of oil, the Associated Press reports, consumers likely won't see higher prices at the pump.