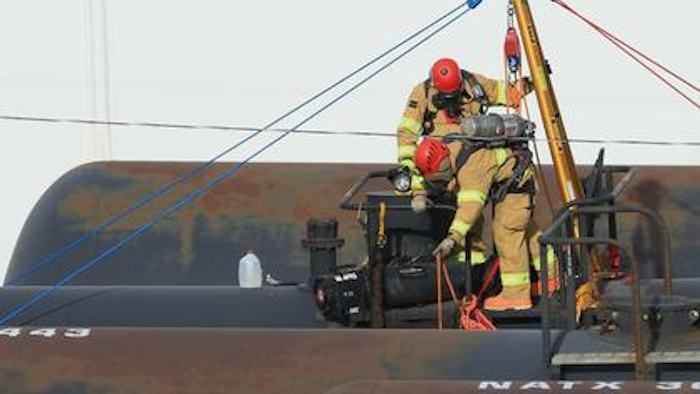 An Omaha rail car cleaning company blatantly ignored warning signs when it sent two workers into a rail car that exploded, federal investigators said Wednesday.
Dallas Foulk, 40, and Adrian LaPour, 44, were killed in the April 14 explosion. A third employee was hurt.
Moments before the blast, a check of the air quality inside the rail car indicated that there was a serious risk of explosion, the Occupational Safety and Health Administration said in a news release. Despite the warning, Nebraska Railcar Cleaning Services sent Foulk and LaPour into the car to clean it without giving them safety equipment and without continuously monitoring for explosion hazards, as required, OSHA said.
The car contained remnants of a natural gasoline commonly called "drip gasoline," added to ethanol and unleaded gasoline to boost its octane level, said Jeff Funke, OSHA's area director in Omaha, on Wednesday.
OSHA has cited Nebraska Railcar Cleaning Services for 33 violations, including seven egregious willful violations for what the agency said was multiple instances of failing to monitor air quality properly in confined spaces. The company has been placed in the agency's severe violator enforcement program and now faces penalties of $963,000.
A company receptionist who answered the phone Wednesday directed questions about the investigation to Nebraska Railcar Cleaning Services' attorney, David Houghton Jr., who didn't immediately respond to a message seeking comment.
Other citations include those for failing to train workers on hazard materials, first aid and other safety issues, failing to label containers for chemical hazards and failing to remove damaged powered industrial vehicles.
Out of about 40,000 inspections OSHA conducts a year, the agency puts out only about a dozen news releases calling a company's actions "egregious," said David Michaels, assistant secretary of labor for occupational safety and health. OSHA did so in this case, in part, because Nebraska Railcar Cleaning Services was cited for many of the same violations two years ago, Michaels said.
"It's particularly notable that we had been in this same facility in 2013 and saw these same hazards and issued citations for them," Michaels said. "Yet, the employer made the decision to continue to expose workers in a way that not just put them at risk, but in this case, killed them."
The company still could face criminal prosecution in the case, he said, although that decision has not yet been made.
Nebraska Railcar has had five whistleblower complaints filed with OSHA since 2013, the agency said, and two are under investigation. The U.S. Environmental Protection Agency also is investigating allegations that the company improperly disposed of hazardous waste.
The company has 15 business days to comply, request a conference with the local agency head or contest the findings, OSHA said.