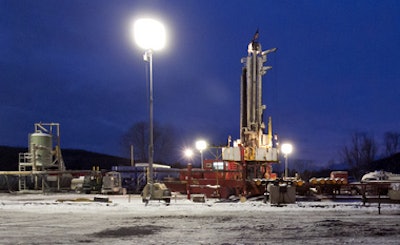 One of the biggest pitfalls of fracking a well is its short lifespan. In fact, output from a well can slow down after only days after it's tapped. But fracking — an industry powered by technological progress — is now being bolstered by a new innovation: Drillers heading back to wells for seconds.
Called refracking, this new technique is basically what it sounds like. Wells that have already been drilled are re-blasted with water, sand and chemicals to form new fissures deep below the earth's surface that unleash oil and gas reserves. Some worry that refracking only speeds up the flow from existing wells — and that it doesn't produce new output. But its low cost has made refracking an attractive gamble for drillers looking for a deal in this low-cost oil market.
Here's a look at this emerging trend and why drillers are coming back to frack.
$8 million = The cost of fracking a new well.
70 percent = The output decline rate in the first year of a newly fracked well.
$2 million = The cost of refracking an existing well.
$20 = The price per barrel extraction from a refracked well, compared to $40-50 from a new well.
50,000-100,000 = Wells in the U.S. that could be re-stimulated, depending on whom you ask.
A few hundred = The number of wells that have been refracked in the U.S. Some expect that number to climb to 3,000 over the next two years and for it to be 11 percent of all hydraulic fracking in the U.S. by 2020.
Cinco de Fraco = Industry slang for a well that's been fracked five times. When it's been fracked eight times, it's referred to as an "Octofrac."
60 percent = The recovery rate increase in oil for some wells that are refracked.
30 percent = The increase in oil production from 80 wells in the first month after being refracked, according to a study by Bloomberg Intelligence that looked at wells originally tapped between 2008 and 2009 in the Bakken.
50 percent = The drop in oil prices over the past year.