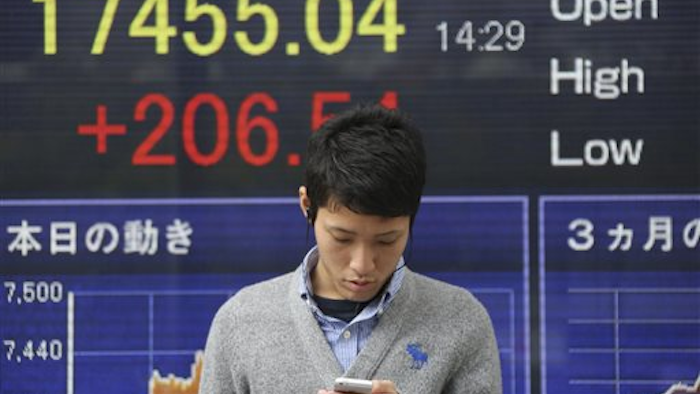 Oil stocks weighed on markets around the world Friday as crude prices hovered around four year lows in the wake of OPEC's decision to keep production steady.
KEEPING SCORE: In Europe, France's CAC 40 was down 0.3 percent at 4,370 while Germany's DAX fell the same rate to 9,943. The FTSE 100 index of leading British shares was 0.4 percent lower at 6,698. Wall Street, which was closed Thursday for the Thanksgiving holiday, is poised for a steady open with both Dow futures and the broader S&P futures down 0.1 percent. Trading in the U.S. is expected to be modest given that markets are only open for half a day.
OIL PRICE SLUMP: The main catalyst in markets remains Thursday's decision by the OPEC oil cartel to maintain production at 30 million barrels a day despite global oversupply, as the Saudis and their Gulf allies hope to pressure rival producers in the U.S. The move, though widely anticipated, hit oil prices hard as traders anticipated supply levels at their current rates at least for a few months yet. The international oil standard, Brent, was up 0.2 percent at $72.72 a barrel while the benchmark New York rate slid 6.6 percent to $68.99 — the divergence is due to the fact that U.S. markets were physically closed Thursday.
RELATED STOCKS HIT: Oil-related stocks were the big losers following the slide in crude prices. In Asia, Chinese state owned oil giant CNOOC, the country's biggest crude producer, plunged 5.5 percent and PetroChina slid 3.3 percent. In Europe, stocks, which had already dived on Thursday, faced further selling pressure. Royal Dutch Shell was down another 2.1 percent while Total fell a further 3.1 percent.
IT'S NOT ALL GLOOM: Not everyone was a loser though. Many companies stand to gain from lower oil prices as they can reduce their input costs and help drive up general economic activity. Airlines, for example, stand to prosper from lower oil prices. Shares in Air France-KLM, for example, were up 4.3 percent, while those in Germany's Lufthansa saw its stock spike 3.2 percent.
ANALYST TAKE: "The template for equity markets today has been clear from the beginning," said Alastair McCaig, market analyst at IG. "Oil and energy manufacturers are down, while those companies that are oil consumers are up."
EURO HOLDS FIRM: In Europe, there was also interest in figures showing inflation across the 18-country eurozone slipped to 0.3 percent in the year to November from 0.4 percent the month before. However, the decline had little impact on trading as it was anticipated and the euro was up 0.1 percent at $1.2481. Fears that the eurozone will start to see falling prices, so-called deflation, have heaped pressure on the euro as traders price in a growing likelihood that the European Central Bank will back a bond-buying program on the lines of the one the Federal Reserve recently brought to an end.
BLACK FRIDAY FOCUS: In the U.S., traders will be monitoring early signals from stores around the country as consumers head out for potential bargains in the traditional Black Friday discounts. Based on early reads, the crowds were thin early Friday morning in parts of the country, but traffic is expected to pick up throughout the day.
ASIA'S DAY: Japan's benchmark Nikkei 225 index rose 1.2 percent to close at 17,459.85 while South Korea's Kospi slipped 0.1 percent to 1,980.78. Hong Kong's Hang Seng edged 0.1 percent lower to 23,987.45 while in mainland China the Shanghai Composite Index gained 2 percent to 2,682.83. Australia's S&P/ASX 200 tumbled 1.6 percent to 5,313.00.
JAPAN DATA: A raft of data releases gave mixed signs about the state of Asia's second biggest economy but the Nikkei surged nonetheless, a sign investors think further stimulus efforts are likely after the upcoming election. Inflation edged lower while industrial output edged up from the month before and unemployment eased slightly. The yen weakened further, with the dollar trading 0.5 percent higher at 118.24 yen.