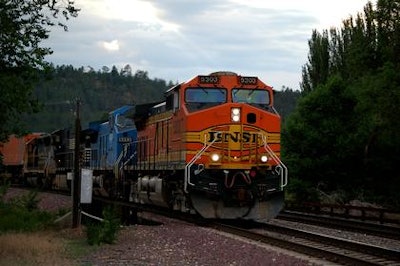 A Burlington Northern Santa Fe train carrying unscented propane derailed near Canada's border with Minnesota and North Dakota early Tuesday, prompting the evacuation of about 40 people who live near the site, the Royal Canadian Mounted Police said.
Manitoba RCMP media relations officer Tara Seel said the RCMP responded to a train derailment in the town of Emerson at about 7:30 a.m. Tuesday. She added that no leaks were detected and no injuries were reported.
Seel said the train was carrying unscented propane.
BNSF spokeswoman Amy McBeth said the train was traveling from Grand Forks, North Dakota, toward Winnipeg, Manitoba, when three of its cars derailed at Emerson. She said two of the cars that derailed were carrying liquid propane gas and the third car was empty.
McBeth said the cause of the accident is still being investigated.
Andrew Kirking, the emergency manager of Pembina County on the North Dakota side of the border, said the train derailed about 100 yards into Canada and did not affect the nearby North Dakota town of Pembina.
The border crossing between Pembina and Emerson is North Dakota's busiest crossing with Canada.