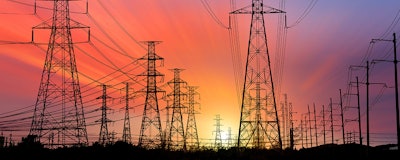 In the manufacturing world, efficiency is everything. Manufacturers are under constant pressure to save time and increase volume while keeping production costs low. At the same time as technology has enabled advancements in their ability to do this via robotics and the Internet of Things, a new demand has cropped up: the demand for energy efficiency. With a growing global emphasis on sustainability, companies now need to balance productivity and technological innovation with finding ways to ensure more efficient and resilient backup power to keep operations up and running.
This is no small task considering the major bottom-line losses than can result from downtime. A recent ITIC study found that for large enterprises with over 1,000 employees, the costs associated with just a single of hour of downtime are very steep—topping the $5 million mark on average in verticals like manufacturing.
Thankfully, advancements in power management have created opportunities for manufacturers to improve energy efficiency efforts while protecting against unplanned power events. In this article we will explore some strategies organizations can use to help strike that balance.
Preparing for Protection
According to Eaton's 2017 Blackout Tracker there were 3,526 outages in the country last year. The number of people affected by outages more than doubled in comparison to 2016 numbers—an increase of almost 19 million. In total, the report found blackouts affected nearly 27 million people last year, lasting an average of 81 minutes per power outage.
Although power failures can happen due to bad weather and other unforeseen events, a uninterruptible power system (UPS)—often deployed in conjunction with a backup generator—can deliver reliable power during outages so critical manufacturing (like semiconductor fabrication and computerized metal forming, just to name a few) functions stay up-and-running. These systems help companies avoid costly data loss, raw material and in-process loss as well as hardware damage, providing availability for networks and other applications in the case of a power event.
Ushering in a new generation of sophisticated UPSs, modern solutions allow organizations to increase energy efficiency without compromising reliability. Today's UPSs offer efficiency ratings up to 99 percent, which can help organizations greatly reduce power consumption. It also helps cut the costs associated with electricity and cooling. These newer, highly efficient UPSs are more able to handle the harsher electrical and operational environments common in manufacturing applications.
For organizations that are interested in obtaining an energy-efficient UPS, there are a number of solutions on the list of ENERGY STAR-qualified products. This certification was established by the U.S. Environmental Protection Agency and the U.S. Department of Energy to help end-users save money and protect the environment.
Lithium Furthers Progress
Most cell phones and laptops today use lithium-ion batteries, which have grown steadily smaller, lighter and denser over the last decade – providing a host of advantages over traditional lead-acid batteries. Lithium-ion batteries are now able to serve as an attractive alternative to UPS batteries, and many observers believe they will become the preferred technology for backing these standby power solutions.
Lithium-ion batteries can help organizations save 60 percent on size and 40 percent on weight in comparison to traditional UPS batteries, while also greatly enhancing service life. In fact, lithium batteries are expected to last 10 to 15 years—a big jump from the 5- to 6-year range of conventional large UPS batteries. These also offer enhanced safety features and rugged packaging—comparable to that of an electric car battery.
Additionally, lithium-ion batteries have a high cycle life—meaning they can be charged and recharged more often without wearing out. While the price for lithium batteries used to be higher, they're now available at nearly the same price as many lead-acid battery options. This high charge/recharge cycle capability opens the door to a wide range of additional "grid-aware" applications, where the UPS with its battery is no longer just a 'battery backup' device. A grid-aware UPS can be used as a Distributed Energy Resource, or DER, allowing the user to optimize the power usage for their facility by using the lithium battery to buffer the fluctuations in Utility power and mitigate power cost.
Power Monitoring and Management
Enhancing UPS functionality, power monitoring and management can offer manufacturers and their IT teams the ability to remotely monitor a single UPS up to an entire enterprise network with an array of devices and components from different manufacturers. Even more, these solutions offer a broad spectrum of advantages that contribute to optimized power, including enhanced energy efficiency, improved data protection and lower overall costs. With adequate backup runtime, modern software can facilitate the seamless movement of critical manufacturing data to a backup site to maintain business continuity.
There are also a breadth of new data and diagnostic tools available to help manufacturers drive faster and more cost-effective repairs. With advancements in predictive analytics, facilities can even anticipate failure of power components before they occur. By collecting and analyzing data from connected power infrastructure devices, these solutions provide facility managers the insight needed to make recommendations and act quickly. With predictive analytics added to a remote monitoring service, facilities will shift their power monitoring efforts from a reactive to a proactive model.
By strategically aligning power management components, combining advanced hardware and software systems, manufacturers can deliver enhanced power protection for critical equipment. These solutions can be strategically deployed to boost energy efficiency while supporting disaster preparedness plans and enhancing business continuity.
Looking Ahead
As technological innovations and data sciences evolve, more new applications will become available to manufacturers that improve production, but these will likely continue to pose greater burdens on the electrical infrastructure. And as the risk of unplanned power events persist, it can threaten everything from service-level agreement and productivity to brand image and customer loyalty.
To make the most of power management investments well and sustainably, manufacturers need to consider a robust system that is anchored by an energy-efficiency power backup solution. Remote power monitoring software and services offer the additional tools needed to bring these components together under one system. By establishing an integrated power management system for advanced efficiency and reliability, manufacturers can rest easy knowing they're covered.
Ed Spears is a product-marketing manager in Eaton's Critical Power Solutions Division.