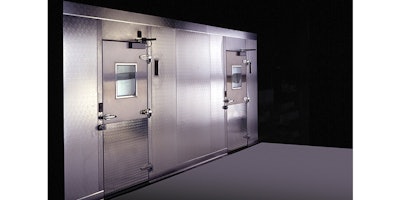 Walk-in coolers and freezers play a key role in any food plant operation. Such a significant investment can also be a drain on energy costs if it is not used and maintained properly. Saving energy with walk-ins is essentially about keeping the refrigerated air in and the humid, warmer air out — a simple concept that requires intention to accomplish. There are several factors that can save energy with a walk-in cooler or freezer:
Design
The design of a walk-in cooler or freezer has a substantial impact on energy savings. Energy management for refrigeration must have a critical design path that has been planned specifically for each device. Size matters here, because quantity/type of inventory, entering temperature of inventory and equipment/personnel used to operate within the walk-in must be factored into the refrigeration calculations. A walk-in that's overloaded or over capacity will not cool as efficiently as one that's been correctly sized.
In addition, the use of microchannel condensers will help reduce refrigerant charge. These critical charge condensers have a high efficiency of heat transfer, helping to cut down on energy costs.
Panels
The walk-in cooler or freezer panels are perhaps the most important aspect of maximizing the efficiency of holding temperatures. The best practice to maintain high energy efficiency is to connect these panels with a tongue-in-groove connection with multi-gaskets on both sides. This tongue-in-groove connection provides multiple layers of sealing on each panel seam, resulting in key energy efficiency.
How heat load is distributed throughout the walk-in matters as well. A walk-in built with a focus on safety, durability and energy efficiency will have electrical conduits and/or outlets within the panels. As a result, additional surface impediments are removed, and any associated heat is better distributed throughout the unit. These built-in conduits/outlets are a critical sanitary feature for food and beverage manufacturers, as they free up surfaces for cleaning, allow floors to maximize space and prevent slips and falls from unintended condensation.
Built-in features
Other built-in features can save energy as well, specifically when it comes to the walk-in's doors. Federal mandates require that doors 42" wide and 84" tall or smaller close themselves when let go within one inch of the wall, and one of the best ways to make that happen is by adding magnetic gaskets to hinge doors. Some walk-in manufacturers are still using P-gaskets instead of magnetic gaskets, which do not provide the closing applications necessary to meet federal requirements. As energy efficiency is maximized by proper sealing, magnetic gaskets can keep cold air in more effectively.
Doors should also have heat in the door, applied exactly where needed to minimize energy consumption. Other walk-in manufacturers will recommend the threshold heaters in conduits in the floor, but targeted heat in a sweep assembly is key to getting a better seal.
The type of lighting used in the walk-in can also be a factor in energy conservation. For maximum energy savings, walk-in coolers and freezers should have LED lighting. LED lights minimize amp draw, putting to use minimal energy load for the lighting of a unit. With advances in technology and availability within the last five years, LED lighting is much more cost effective, and payback is immediate.
Add-on features
Outside of built-in features, some things can be added on to walk-in units to save energy costs. Most door sizes must come with a strip curtain per federal mandates. Larger doors are not required to use strip curtains, but strip/air curtains or high-speed rollup fabric doors on every opening help to significantly reduce energy costs.
In addition, users can add on air exchange vestibules that mitigate the drastic temperatures of moving from a warm climate to a cool climate. Continuing improvements have these air exchange vestibules taking up only about two feet of space in front of the walk-in doors. While yes, they are a significant investment, air exchange vestibules see a rapid payback in energy savings.
Walk-in maintenance
Maintenance is a key part of saving energy in walk-in coolers and freezers. Preventive maintenance should be regularly performed to ensure the walk-in is functioning properly and not consuming extra energy. Here are some of the aspects of a walk-in that should be regularly checked to maintain energy savings:
Doors are properly closing and sealing
Airflow to operational devices is not restricted
Thermostats are accurate and not dislodged
Heaters are connected and working to doors, pressure relief ports and drains
Defrost is minimal
Condenser coil is clean with no restrictions
Technical aspects are intact, such as super heat settings within operational parameters
Evaporator fans are clear and operating
Refurbishment
If an older walk-in is still in fair condition, refurbishment should be considered to save energy. Refurbishment can add several years to the life of a walk-in cooler or freezer. Refurbishment is accomplished by adding new doors, re-sealing joints, updating the refrigeration equipment and sealing panels. In some cases, refurbishment will have a better ROI than buying a new walk-in. A good walk-in manufacturer will evaluate which is a better option based on the condition of the current walk-in.
Buying new
If refurbishment is not an option, a new walk-in cooler or freezer will more than likely help save energy. With the ever-changing federal mandates, buyers should verify that manufacturers are meeting current energy code requirements. Manufacturers who partner with the U.S. Department of Energy (DOE) will be knowledgeable of current regulations and can recommend products that are compliant.
Knowing what energy-saving factors are available will help in making informed decisions regarding the significant investment walk-in coolers and freezers represent in food plant operations. The right walk-in will help to manage energy costs in food plant operations, and the right manufacturer will be a strategic partner to make recommendations on energy-saving practices.
About Everidge

Everidge is the nation's premier commercial refrigerated services provider, representing an unmatched, combined strength with brands CrownTonka, ThermalRite, ICS and LoTemp Doors. Everidge indoor or outdoor walk-in coolers and freezers, blast chillers, prep tables, vacuum sealers and other refrigeration components are customized for any application, yet at an affordable price to ensure food is kept safe and fresh. With short lead times, low freight charges and fast delivery, Everidge brands promise responsive, turn-key support every step of the way — from the point of sale through installation. For more information, please visit www.everidge.com.