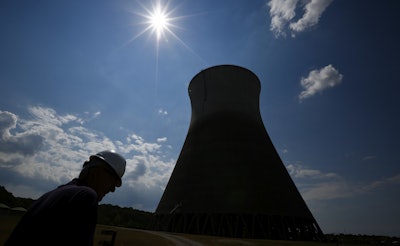 According to a recent Bloomberg report, May 2017 will be a moment of truth for at least four of the country's nuclear power plants.
That's when PJM Interconnection, which operates the biggest power market in the U.S., will hold an auction to award contracts to suppliers. During this auction, four nuclear plants are submitting bids:
FirstEnergy Davis Besse in Oak Harbor, Ohio
FirstEnergy Beavery Valley in Shippingport, Pa.
Exelon's Byron Nuclear Generating Station in Byron, Ill.
Exelon's Three Mile Island in Middleton, Pa.
The plants are struggling to stay competitive with natural gas and renewables and may not be able to generate power cheaply enough to survive.
So if these plants fail to win bids, Bloomberg Intelligence reports that they could face closures, which would eliminate nuclear power capacity for about 4 million homes.
The U.S. currently has about 99 operating nuclear reactors. In 2015, about 19.5 percent of the country's electric grid was sourced from nuclear power.