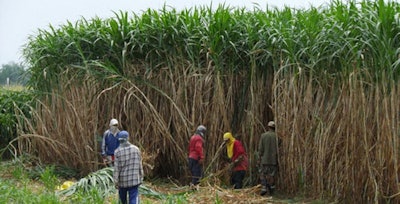 Wild elephant grass, also know as Napier grass, is one of those wonder plants that needs little water and few nutrients to produce copious crops on fallow lands. Since it can be used for grazing, it has allowed farmers from Africa to Asia to amp up food supplies for their cattle herds.
But Philippine farmers in Bacolor, Pampanga, just north of the capital Manila, have now gone a step further. They are using the grass to produce renewable electricity for their meat factory. "Everything we need is on-hand," says Bacolor Mayor Jomar Hizon.
The town has plenty of land to graze cattle and grow grass, but its processed meat factory, Pampanga's Best, needs electricity. Hizon says that that the grass-powered power plant is "like a three-point shot."
The sod growing in Pampanga is the so-called "Super Napier" grass, which is packed with energy. It can produce several crops per year and local experts estimate that an area smaller than a fifth of New York's Central Park, or about 150 acres, could yield 1 megawatt in grass power. "The Philippines is a very appropriate place for a project such as this, where we have farmers in one community, and a power plant a few kilometers away that can provide up to perhaps 10 megawatts," says West Stewart, managing director of Advanced Energy Technologies, which builds distributed power plants across southeast Asia.  Stewart says that the elephant grass power plant could help power towns and villages facing electricity shortages and lacking links to the electric grid.
The farmers, of course, are not burning the grass itself. That would be too inefficient. They "gassify" the cellulose in the grass blades by exposing it to very high heat, and break it down into energy-rich synthetic gas, or syngas, which contains methane, hydrogen and carbon monoxide. They use the syngas as fuel for massive Jenbacher gas engines, which GE manufactures in Austria. "This can be replicated in other areas in the country," says John Alcordo, GE's regional general manager for Distributed Power in ASEAN. "We believe that in an island grid such as [in Bacolor], and in a land where feedstock for biomass gasification can grow well, the opportunities will be significant."
The shift to distributed power is the latest trend in energy generation and distribution, akin to going from landlines to cell phones, a move that revolutionized telecommunications two decades ago. It gives people and businesses predictable and reliable access to electricity, regardless of whether the grid is working or whether it reaches their town.
GE's Distributed Power business, the company's newest unit, has already rolled out dozens of similar Jenbacher applications around the world. The gas engines are munching on everything from cheese whey and whisky mash to discarded school lunches and rice hulls.
For more stories like this, visit GE Reports.