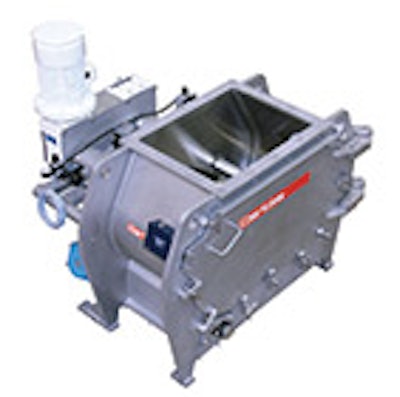 The GMS 140 C is the latest addition to the assortment of Gericke Multiflux batch mixers distributed by Powder
Technologies, Inc. The smallest Gericke double shaft mixer, it features a useable volume of 40 to 100 liters suitable for premixing and small production batches. Its compact housing delivers an extremely short mixing time resulting in faster mixing cycles. As part of the Multiflux series, the GMS 140 forms a mechanical fluid bed with 2 horizontally arranged comb-type agitators. This means that the mixing process is fast and gentle and yields a high-quality product at up to 12 mixing cycles per hour. The bearings on one side of the agitator allow the complete front panel of the mixer to be opened offering greater accessibility for cleaning. The short length of the mixing chamber allows full access to the agitator and mixing chamber. The mixer shafts on the drive side have fast-cleaning gaskets, which can be dismantled, cleaned and reassembled quickly.
Powder Technologies, Inc.