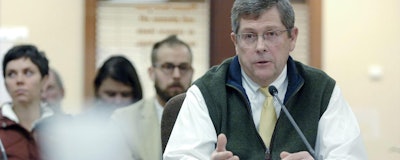 North Dakota oil industry leaders are pushing to loosen the state's oil conditioning regulations, but an environmental group is arguing to tighten rules.
The North Dakota Industrial Commission is considering changing regulations adopted nearly four years ago to make Bakken crude oil safer for rail transportation after fiery train derailments, the Bismarck Tribune reported. Under the regulations, companies must remove the most volatile gases from Bakken crude oil to ensure vapor pressure doesn't exceed 13.7 pounds per square inch.
Companies must report vapor pressure tests to regulators quarterly.
About 60,000 vapor pressure tests have been submitted, and of those, about one in 1,000 exceeded the threshold, according to North Dakota Department of Mineral Resources Director Lynn Helms.
The commission is looking into reducing how often companies have to submit vapor pressure tests to regulators.
The North Dakota Petroleum Council urged the commission at a hearing Tuesday to change the rules so that tests should be submitted annually, instead of quarterly.
Kari Cutting, the industry group's vice president, said reducing the amount of data submitted to regulators wouldn't change the requirement to meet the vapor pressure threshold.
"The intended impact is to allow North Dakota's Department of Mineral Resources to focus its efforts where they will be the most effective and increase their enforcement efficiency without reducing the oversight of rail transportation," Cutting said.
But the Dakota Resource Council says the current rules are insufficient and that the quarterly reporting requirement should stay in place.
Scott Skokos, the council's executive director, said the industry is easily meeting the 13.7 psi threshold, which indicated that "the regulation is essentially not actually doing much."
"It looks like they could actually be setting the bar a little bit higher," Skokos said.
Helms said the commission will take action on the oil conditioning regulations Dec. 18.
(Source: Associated Press)