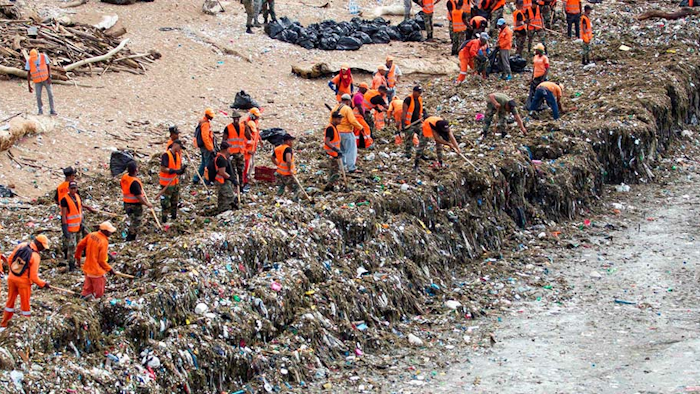 A tropical storm hit Caribbean tourist destination Montesinos Beach in the Dominican Republic, flooding its beaches with over a thousand tons of plastic and garbage.
Although the Caribbean nation is typically known for its blue seas and sandy white beaches, it is currently littered with plastic bottles and styrofoam takeout boxes, according to a statement by Parley for the Oceans, a non-profit environmental organization that works to reduce plastic waste in the world's oceans.
Piles of plastic waste—most notably the "Great Pacific Garbage Patch"—are usually far from human settlements. However, workers have collected over 60 tons of waste on Montesinos Beach in the Dominican Republic's capital city Santo Domingo since last week, and the mucky waves continue to carry more waste ashore.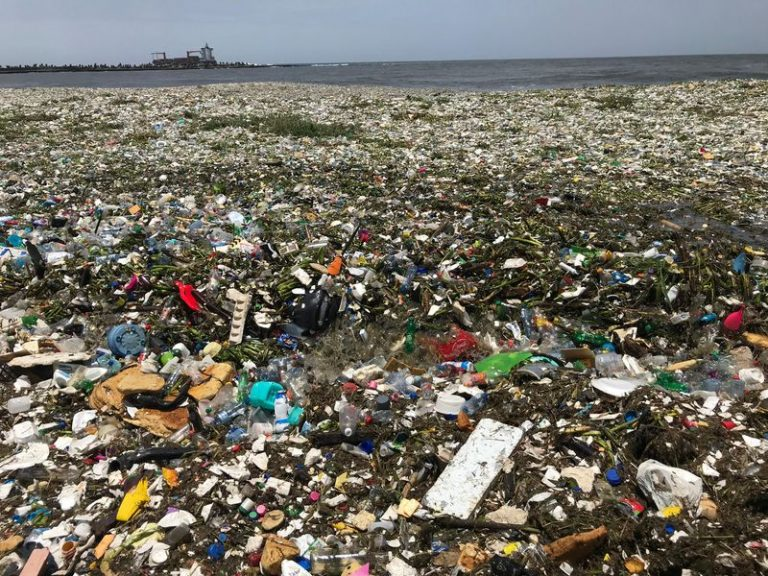 The plastic waste is flowing from the Ozama River, where people, often living in informal settlements, have taken to dumping their trash; up to 90,000 tons per year. According to Lorraine Chow of EcoWatch, the trash was pushed ashore by a recent storm.
Parley for the Oceans' founder Cyrill Gutsch indicated that this piling up of plastic waste was not an unusual occurrence.
"What we're seeing here is unfortunately the new normal," said Gutsch. "The plastic wave you're seeing here is material that got flushed down the rivers. It's not something that gathered for a long time. One strong storm can cause this."
Once it is out in the open, plastic breaks down and releases chemicals that are impossible to capture. Wildlife trapped in the debris and humans affected by the toxic particles in the waves are all at risk, local environmentalists said.
More than 500 public workers and volunteers have been dispatched to clean up the scene, and the Dominican Republic's navy and army are also assisting in the effort. After just three days, workers had collected 30 tons of plastic off of the beaches. As teams use pikes, shovels, and excavators to lift the garbage, they are met with new waves washing more waste ashore.
Machinery and trucks have been sent in to deal with the massive tide of plastic, much of which will have to be sent to landfills because it is mixed and contaminated.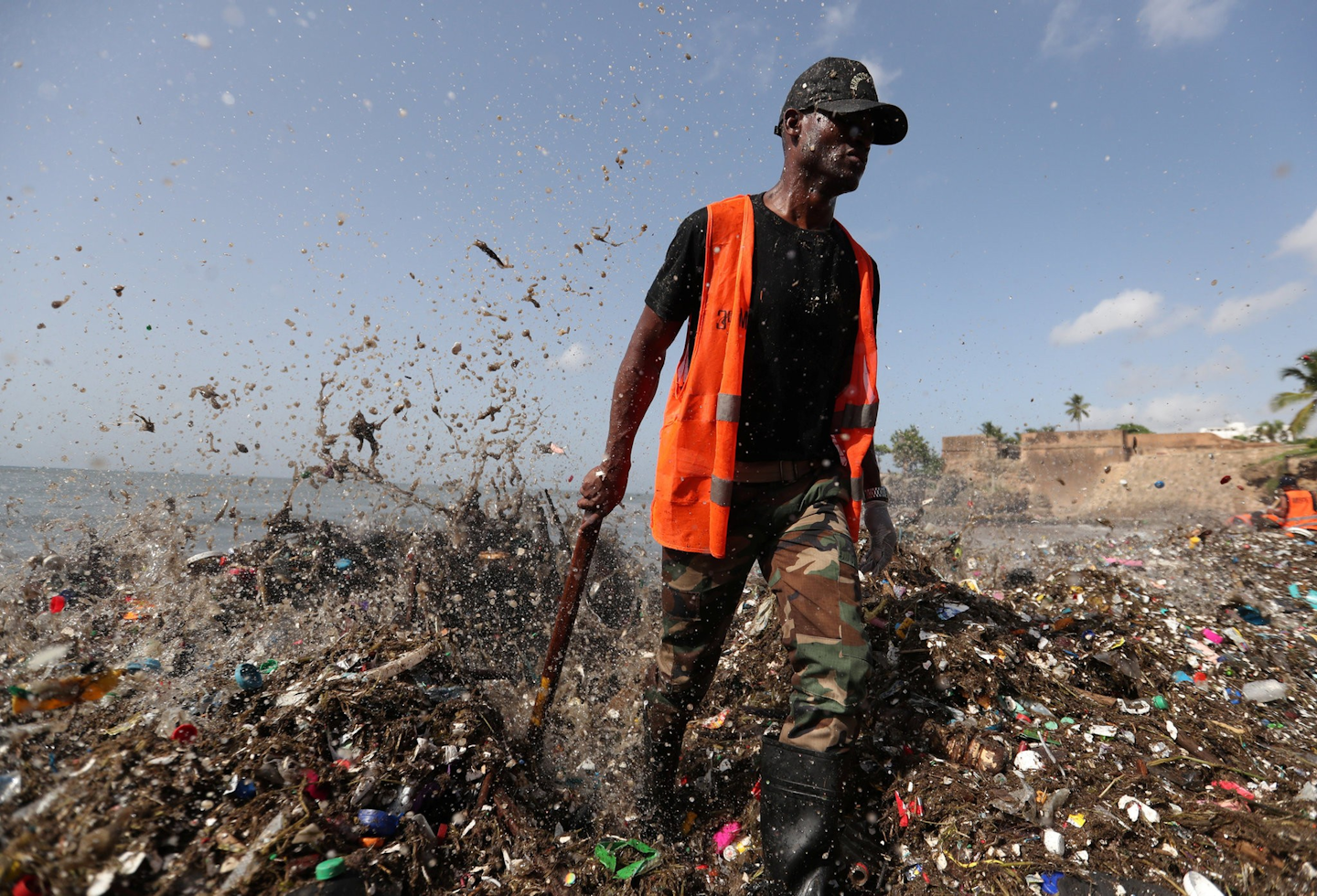 Parley is working to transform a portion of the recycled plastic into Ocean Plastic—a material used to create products like Adidas shoes that raise awareness and help fund the campaign against ocean plastic. So far, six tons of plastic have been recovered for this cause. Adidas plans to contribute to the solution by making 1 million pairs of running shoes out of 11 million plastic bottles recovered from the ocean by next year.
Along with assisting the clean-up effort, Parley is trying to implement the AIR strategy (Avoid, Intercept, Redesign) across the island. The strategy focuses on identifying the root of the problem and working with policy-makers to improve the island's waste and recycling infrastructure.
The plastic on Montesinos Beach is just a small fraction of the trash that is being dumped into the water, as most of it gets washed out to sea. A recent study found that coastal countries alone sent 8 million tons of plastic trash into the oceans in 2010. Another report predicted that in just over 30 years, plastic will outweigh fish in the ocean.
Gutsch explained that recycling isn't enough to fix the global plastic problem. "Even if you recycle [plastic] and even if you use it in the best possible way, it always leaches chemicals," he said. "A better solution is drastically cutting back on single-use plastics."
If action is not taken to fix the global plastic problem, many worry that within a few decades, the larger pieces of debris could break up into microplastics, which are much harder to remove from the ocean.
"Garbage emergencies like this are urgent reminders that we need to act fast," Parley says in its statement. "Unless urgent action is taken, scenes like this will become more common all over the world in the coming years as we reach a plastic tipping point."