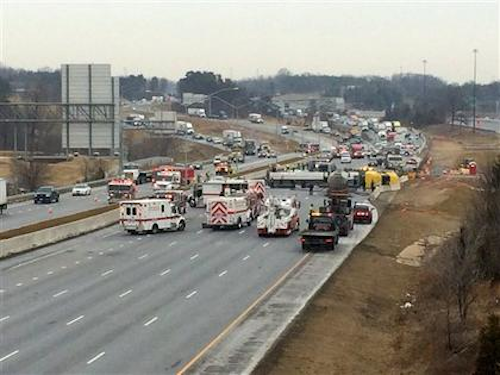 LAUREL, Md. (AP) — Interstate 95's southbound lanes remain closed about 5 miles north of the Capital Beltway in Maryland after officials say a tanker truck overturned, spilling about 400 gallons of bio-diesel fuel.
The tanker overturned Tuesday south of state Route 198 near Laurel, bringing traffic to a halt in both directions for more than two hours. Northbound lanes have reopened, but southbound lanes were still closed at 3 p.m.
Highways officials say cleanup will likely extend into the afternoon rush hour.
Local media showed aerial shots of the tanker lying across four lanes, pushing into barrier walls along the median. State police say three passenger vehicles were also involved.
Prince George's County fire officials say two people, including the tanker driver, were evaluated, but didn't need to be taken to a hospital.