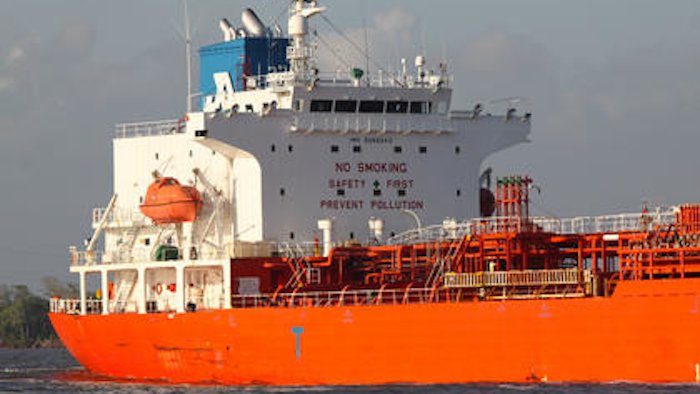 HOUSTON (AP) — A portion of the Houston Ship Channel remained shut down early Tuesday after two 600-foot ships collided during foggy conditions a day earlier, causing some leakage of a flammable liquid.
The Coast Guard said a gasoline additive aboard a chemical tanker was no longer leaking methyl tert-butyl ether — or MTBE. It was not immediately known how much spilled.
Petty Officer Andy Kendrick said that the Liberian bulk carrier Conti Peridot had been moved from the collision site but that the Danish-flagged Carla Maersk would remain in the channel until decisions are made about what to do with its chemical cargo. He said that won't happen until after daybreak.
No injuries were reported from the collision, and the immediate area remains closed, including the Barbours Cut Terminal, where cargo vessels are loaded and unloaded.
Three cargo tanks on the tanker were ruptured, releasing an unknown quantity of the water-soluble, flammable gasoline additive, said Coast Guard Capt. Brian Penoyer, commander of the Houston-Galveston Coast Guard District.
"This is not a cargo chemical that is easy to clean up," he said.
Crews were examining the vessel's tanks to determine how much of the product spilled into the 50-mile channel that connects the Gulf of Mexico to the Port of Houston. It was carrying approximately 216,000 barrels of MTBE before the collision, according to the Coast Guard.
The federal Environmental Protection Agency describes MTBE as a volatile, flammable and colorless liquid that dissolved rather easily in water. It's used to raise the oxygen content of gasoline.
The Coast Guard said in a statement late Monday night that air-quality monitoring had determined that fumes were present but they were below toxic levels.
Coast Guard Petty Officer Manda Emery said it was too soon to blame rain and fog for the collision.
"We'll have a very long marine casualty investigation to follow this," she said.
It was the second ship collision in the channel in less than a week. No pollution and no injuries were reported last Thursday when a 445-foot tanker and 892-foot container ship bumped about 15 miles up the channel from Galveston.
The Port of Houston, a major part of the ship channel, is home to the nation's largest and one of the world's largest petrochemical complexes. It typically handles about 70 ships per day, plus 300 to 400 tugboats and barges, and consistently ranks first in the nation in foreign waterborne tonnage, U.S. imports and U.S. export tonnage. It is second in the U.S. in total tonnage.
Officials with two state agencies, the General Land Office and the Texas Commission on Environmental Quality, said they would play a backup role in any cleanup effort, deferring to the Coast Guard for any assistance they may need to provide.
The land office was providing personnel and equipment, spokesman Jim Suydam said. TCEQ could assist with water sampling and monitoring of air quality if the Coast Guard requested it, spokesman Terry Clawson said.
The National Transportation Safety Board also dispatched a team of investigators to the scene, according to an NTSB statement.
Records show the Conti Peridot was built in 2011 and left Panama Feb. 27 for Houston. It previously had been to Shanghai, China. The Carla Maersk, built in 1999, left Venezuela on Feb. 7, arrived in Houston last Wednesday and was headed back to Venezuela.