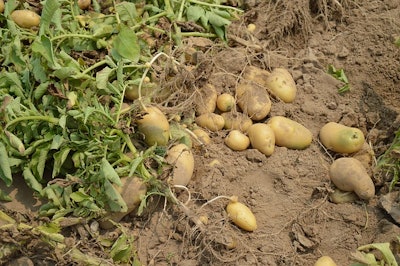 FARGO, N.D. (AP) — A handful of farmers have found creative ways to defraud federal farm programs in recent years.
There was the North Carolina couple who faked hail damage to their crops by telling workers to throw ice cubes and scatter mothballs onto a tomato field; the South Dakota couple who fleeced the government by collecting $1 million in wool payments for sheep they didn't own; and the Texas man who spent one year in prison for filing a claim for cotton he never planted.
The latest case involves two brothers from North Dakota accused of using various techniques to destroy their potatoes, such as adding septic tank chemicals and bringing in what one witness called a "monster" portable heater to turn their warehouse into a spud sauna.
Fraud is one of the biggest issues in the federal farm program and costs taxpayers millions of dollars per year, according to Chad Marzen, a lawyer and Florida State University professor who specializes in insurance law and regulation.
"The vast majority of farmers are very honest, hard-working people who receive a lot of vital support from the program," said Marzen, who grew up on a farm in northern Iowa. "But it's the unfortunate few instances that have led to more money being appropriated at the federal level to combat fraud."
Aaron and Derek Johnson are scheduled to be sentenced Monday after a jury convicted them of conspiring to receive illegal payments and giving false statements. Federal prosecutor Nick Chase is asking seven years in prison per brother in the scheme he said cost the U.S. Agriculture Department more than $1 million.
Some of the fraud allegations can be difficult to prove, but emerging technologies such as picture imaging have improved the integrity of the program, Marzen said. That said, prosecutors in the Johnson case had to rely on the testimony of a former farmhand who happens to be serving time in prison for sexual assault.
The Johnson brothers, who farmed in the Cooperstown area, were accused of adding spoiled and frozen potatoes to their stored crop and using portable heaters to warm the warehouse above 80 degrees to make the potatoes deteriorate faster. The defendants found that the best way to wreck the crop was using Rid-X, a chemical that's designed to dissolve solid materials in septic systems, prosecutors said.
"The amount of the fraud involved likely far exceeds what can be proven by the United States," Chase wrote in his sentencing recommendation, a statement Aaron Johnson's attorney labeled as "disturbing."
"It is dangerous to consider any case, or type of case, based on anecdotes and speculation," Neil Fulton, head of the federal public defender's office for the Dakotas, told The Associated Press.
Fulton said in a sentencing brief that he plans to ask for a sentence of probation for his client, who he said is a valuable asset to his family and community and that prison would hurt his chances of paying back the government.
Derek Johnson's lawyer wrote in his sentencing recommendation that the jury verdict on the conspiracy charge did not represent his client's minimal involvement.
"The uncontroverted testimony at trial was that Aaron Johnson 'made the deals,' he completed and filed all of the paperwork, and he made the decisions on all matters financial," Benjamin Thomas wrote.
The federal farm insurance program is based greatly on trust — that insured producers provide truthful information, Chase said at trial. In addition to harming farm programs, Chase said, the brothers hurt neighbors who had to rely on established county production averages to establish insurance coverage.
"I certainly think that it is" offensive that someone would intentionally destroy food, Marzen said. "It hurts the consumers who may purchase products. It hurts other farmers. It hurts those who abide by the rules."