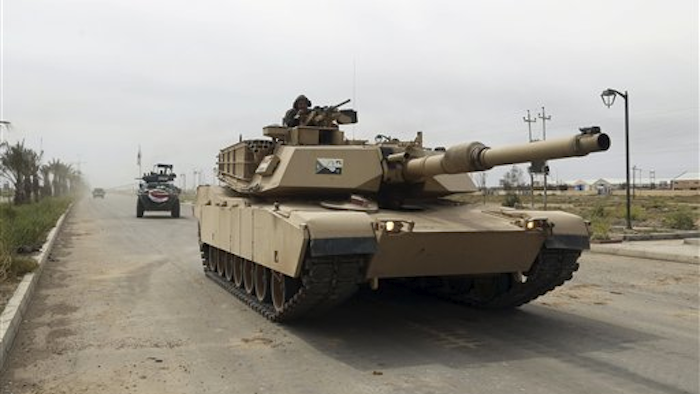 BAGHDAD (AP) — Iraqi security forces have gained full control over a contested area south of the country's largest oil refinery Friday as part of ongoing operations to secure the rest of Salahuddin province following
the recapturing of Tikrit, a senior Iraqi military official said.
General Ayad al-Lahabi, a commander with the Salahuddin Command Center, said the military, backed by coalition airstrikes and Shiite and Sunni militias dubbed the Popular Mobilization Forces, gained control of the towns of al-Malha and al-Mazraah, located 3 kilometers (1.9 miles) south of the Beiji oil refinery, killing at least 160 militants with the Islamic State group.
Al-Lahabi said security forces are trying to secure two corridors around the refinery itself after the Sunni militants launched a large-scale attack on the complex earlier this week, hitting the refinery walls with explosive-laced Humvees.
Extremists from the Islamic State group seized much of Salahuddin province last summer during their advance across northern and western Iraq. The battle for Tikrit was seen as a key step toward eventually driving the militants out of Mosul, Iraq's second-largest city and the capital of Nineveh province. In November, Iraqi security forces said they had recaptured the town of Beiji from the militant group. The refinery had never been captured by the militants but has been subjected to frequent attacks by the group.
In Iraq's western Anbar province, meanwhile, Iraqi special forces maintained control of the provincial capital, Ramadi, after days of intense clashes with the Islamic State group left the city at risk. Sabah Nuaman, a special forces commander in Anbar, said the situation had improved early Friday after airstrikes hit key militant targets on the city's fringes.
Sabah al-Karhout, head of Anbar's provincial council, said there were no major attacks on the city Friday but that the militants still maintained control of three villages to the east of Ramadi, which they captured Wednesday, sending thousands of civilians fleeing for safety.