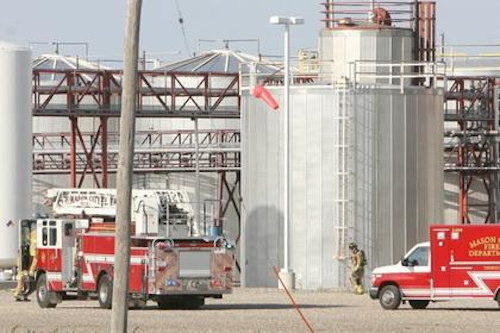 MASON CITY, Iowa (AP) — A trial date has been set for a lawsuit against a Nebraska company stemming from an explosion at a northern Iowa biodiesel plant.
The Mason City Globe Gazette says that the lawsuit involves Soy Energy, a Mason City biodiesel plant.
According to court documents, a tank in the plant exploded and caused damage to the building and its contents.
SE Liquidating Trust, a successor in interest to Soy Energy, filed a lawsuit against Omaha-based CJS Group Inc. earlier this year, claiming a breach of contract, negligence and indemnification.
Court documents say Soy Energy contracted with Ball Industrial Services to work on modifications for its existing biodiesel plant. Ball Industrial Services then hired CJS Group to serve as an engineering consultant.
The trial is set for Nov. 7, 2016.