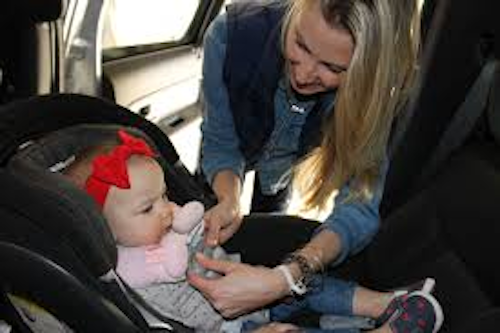 The toxicity of certain flame retardants has been the subject of increased scrutiny in recent years, especially in furniture.

Now a new study by the nonprofit Ecology Center has revealed the presence of several toxic chemicals in the majority of tested children's car seats.
The study tested 15 2014-model car seats using gas chromatography/mass spectrometry. About 73 percent of the seats tested positive for halogenated flame retardants, while more than half contained non-halogenated organophosphate flame retardants.
According to the researchers, "The seats were also tested for bromine (associated with brominated flame retardants), chlorine (indicating the presence of chlorinated flame retardants when detected in a certain range of concentration), lead, and other heavy metals. These substances have been linked to thyroid problems, learning and memory impairment, decreased fertility, behavioral changes and cancer."

Heat can speed the release of toxic chemicals and children and babies are especially susceptible to exposure because pound for pound, they eat, drink and breathe about two and a half times more than adults. Babies are also more vulnerable because of the amount of time they spend in car seats.  
The research didn't just aim to expose the presence of the chemicals in car seats. The study's authors said they hoped to highlight the challenges of regulating chemicals in the U.S.
In the last few decades, federal guidelines have forced manufacturers to add flame retardants to many products, including furniture, car interiors, and children's clothing, including pajamas. But as the health dangers of these chemicals have been uncovered, some have been phased out, contributing to the rise in use of other chemicals — many with health concerns of their own. Chlorinated tris (TDCPP), is one such chemical that was shown to be a possible carcinogen, phased out, then reintroduced after another chemical was deemed too dangerous to use. TDCCP was found in two of the car seats from the study.
What's worse, flame retardants may not even be doing much to save lives. Researchers have found that the slight delay in fabric catching fire created by the chemicals is often insignificant in helping victims in fires who can be quickly overwhelmed by smoke and flames.
Regulation of toxic chemicals has been a hot topic in Washington in recent months as lawmakers negotiate a new version of the Toxic Substance Control Act. Consistent and increased testing of certain chemicals is supposed to be improved in the new version of the bill. Last week, the House Energy and Commerce Committee advanced the bill to the House floor where it will be voted on later this month.