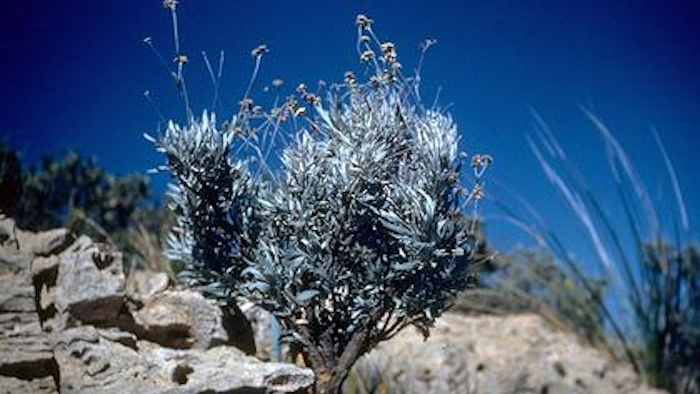 Rubber companies are increasingly looking to a North American desert shrub as a potential alternative to rubber imported from Southeast Asia.


Similarities between the properties of natural rubber and the latex from the guayule plant are no secret. Research on the plant began when disease wiped out South America's rubber industry in the early 20th century, and guayule was planted extensively during World War II when Japan cut off the country's supply of natural rubber from Asia.

Efforts to develop the plant on a commercial scale, however, always fell short due to the comparatively low cost of natural rubber and the advent of synthetic rubber.

Still, disease remains a constant threat to the rubber tree, while synthetic material requires the use of petrochemicals and can't completely replace the genuine article.

Now, a report in Chemical & Engineering News suggests companies — from tire giants Bridgestone and Cooper to San Diego-based startup Yulex — see the necessity of developing a more diverse rubber source and are committed to the plant.

"If you look at the future, the beautiful picture would be rubber coming from tropical regions from hevea trees, from arid regions from guayule, and from temperate climates from something like Russian dandelion," Bill Niaura of Bridgestone told CEN.

The process of cultivating rubber from guayule is considerably longer and more costly than tapping rubber trees, but new methods to extract latex from the plant's cells suggest commercial development could arrive soon.

An additional twist in the appeal of guayule: unlike rubber, material from the plant appears to be hypoallergenic.

"We have solved all the riddles with respect to processing technology, performance of the material, and finally the question of genetics," Yulex CEO Jeffrey Martin, whose company grows and processes guayule in Arizona, said. "Now it is just an issue of scale." 

Meanwhile, researchers from WSU recently identified another potential rubber source in the American West when they pinpointed the biological markers for the latex of prickly lettuce, whose polymers closely match those of natural rubber.