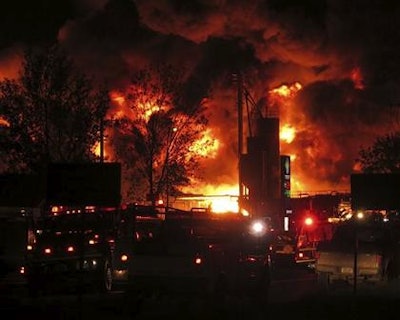 WILLISTON, N.D. (AP) — A more efficient system must be established to alert residents of danger in North Dakota's booming oil patch, an emergency manager and residents said, after authorities failed to alert the public for more than six hours when a facility storing toxic chemicals exploded.
No one was injured or killed in the explosion and fire that started around midnight Monday and raged for much of Tuesday at the Red River Supply plant, located about half a mile from downtown Williston. The blaze shot fireballs into the air and a plume of smoke prompted the cancellation of flights for several hours.
"They should have done more," said Aaron Volesky, a resident in the city of 20,000 people.
The fire was the latest of a lengthening list of incidents involving the state's booming energy sector, including oil train explosions, saltwater spills and fires at facilities caused by lightning strikes. State and local agencies have struggled to ensure safety and regulate the rapidly growing industry.
Volesky heard what he thought was thunder and walked outside his home early Tuesday to find fireballs and smoke filling the sky. His route to work was blocked later that day without notice.
Officials say the blaze began about midnight Monday. The first press release about the situation was issued more than six hours later at 6:24 a.m. Tuesday. State records show the facility stored dozens of chemicals, many of which likely burned in the fire, according to Williams County Emergency Manager Mike Hallesy.
Hallesy said more needs to be done to inform residents quickly about such emergency situations.
Emergency workers went door-to-door to alert the few residents in the voluntary evacuation zone, he said.
Nicole Clarys, who works alongside Volesky near the scene of the fire, said she learned about the situation through Facebook, where many oil patch residents shared photos and videos of the blaze and explosions.
There were "wild and conflicting stories" on social media, Hallesy said. His office has a Facebook page, but it has not really been utilized.
"I need a good Facebooker to teach an old dog like me a couple of tricks," he said.
Hallesy said the county and city are looking to start using the Integrated Public Alert and Warning System. The system is organized by the Federal Emergency Management Agency and allows push notifications to be sent to cellphones. He said the system had been tested in recent days.
On Wednesday, North Dakota Department of Health Air Quality Director Terry O'Clair said air quality tests conducted by his agency and the federal Environmental Protection Agency in Williston after the fire did not find worrying levels of contamination, as was initially feared.
"Results were coming in at levels that were not of concern," he said.
North Dakota Water Quality Director Karl Rockerman told The Associated Press that soil and water samples taken from the site were being tested Wednesday.