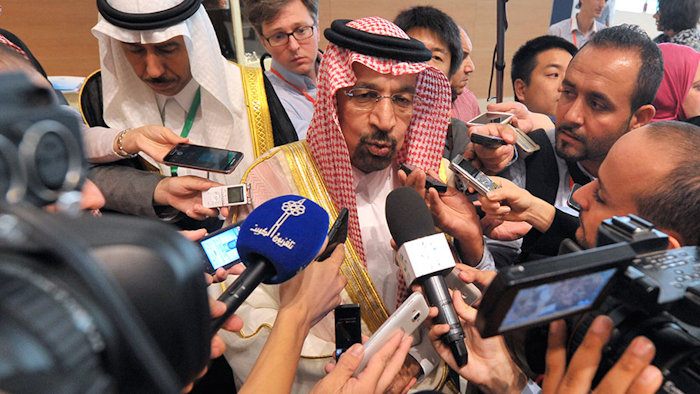 ALGIERS, Algeria (AP) — Prospects are dim for a deal among OPEC countries on Wednesday to freeze production and support oil prices, as disagreements persist between regional rivals Saudi Arabia and Iran.
Officials from the Organization of the Petroleum Exporting Countries will meet informally on the sidelines of an energy conference in Algiers to try to find common ground on how to support oil markets. Experts say that would require a decision to limit output — an idea Iran still views with skepticism, as it's trying to restore its oil industry since emerging from international sanctions this year.
Algerian officials shuttled through the night between delegations to try to secure agreement, but the gap between Iran and Saudi Arabia remains too wide, said a senior Energy Ministry official. The person spoke only on condition of anonymity because they were not authorized to speak publicly.
If they can't reach a deal on cutting production Wednesday, the hosts of the meeting are hoping to lay the groundwork for an agreement at the next OPEC meeting in November.
On Tuesday, Iranian Petroleum Minister Bijan Namdar Zanganeh played down the OPEC gathering, calling it "just a consultation meeting ... If there is a decision, it should be taken at the next (OPEC) meeting in Vienna in November."
The price of crude oil has fallen sharply since mid-2014, when it was over $100 a barrel, dropping below $30 at the start of this year. On Wednesday, the U.S. contract was trading at $44.87 a barrel, up 20 cents on the day.
Saudi Arabia, the world's biggest oil producer and Iran's rival for power in the Middle East, appears to be more amenable to some sort of production limit, certainly more so than in April when OPEC failed to agree on measures to curb supplies.
Saudi Energy Minister Khalid Al-Falih has this week promised to "support any decision aimed at stabilizing the market."
Over the past couple of years, OPEC countries, led by Saudi Arabia, had been willing to let the oil price drop as a means of driving some U.S. shale oil and gas producers out of business. Shale oil and gas requires a higher price to break even.
Those lower prices have hurt many oil-producing nations hard, particularly OPEC members Venezuela and Nigeria, but also Russia and Brazil.