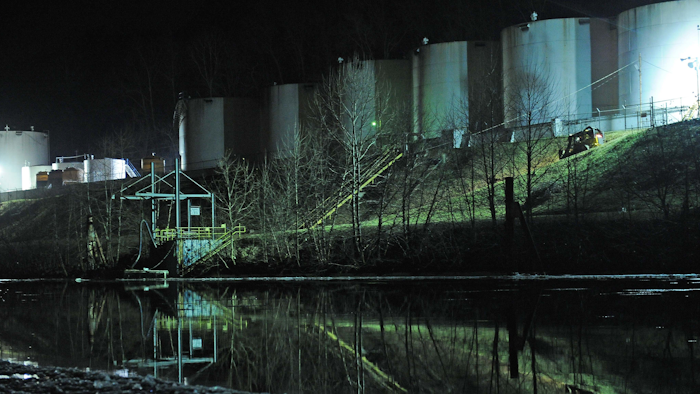 CHARLESTON, W.Va. (AP) — A federal judge has delayed the trial involving a lawsuit filed against a water company and a manufacturer that sold a chemical to a company involved in a massive spill in Charleston.
U.S. District Judge John Copenhaver told attorneys during a monthly status hearing last week he would need more time to review and rule on several motions, The Charleston Gazette-Mail reported. The trial had been scheduled to start July 12.
No new trial date was set. Copenhaver set another status hearing for June 10.
The class-action lawsuit was filed by residents and businesses against Eastman Chemical, West Virginia American Water and its parent company, American Water Works, over their roles in the January 2014 spill.
Eastman produced the coal-cleaning agent that leaked from a Freedom Industries tank into the Elk River. The spill prompted a ban on drinking tap water for 300,000 people for several days.
Freedom Industries filed for bankruptcy eight days after the spill. Former company officials Gary Southern and Dennis Farrell were sentenced to a month in federal prison on pollution charges. Four others received probation.
In a separate hearing Friday, Copenhaver delayed ruling on a request that he approve a settlement of claims in a federal class-action against Farrell and Southern. Under the proposed deal, Southern would pay $350,000 and Farrell $50,000 to the class of residents represented in the case. Copenhaver had said he wanted more information about Farrell's finances before ruling on the settlement.
Copenhaver declined a request from Farrell's attorney for a closed-door hearing Friday, saying it would have to be made part of the public record. Attorney Mike Carey said publicly disclosing Farrell's dire financial situation would put Farrell at a disadvantage in any negotiations to settle other spill cases pending against Farrell.
After meeting with Farrell, Carey said he would not provide the court with additional financial information. The judge told Carey to talk to attorneys in the other spill cases and report back to him.