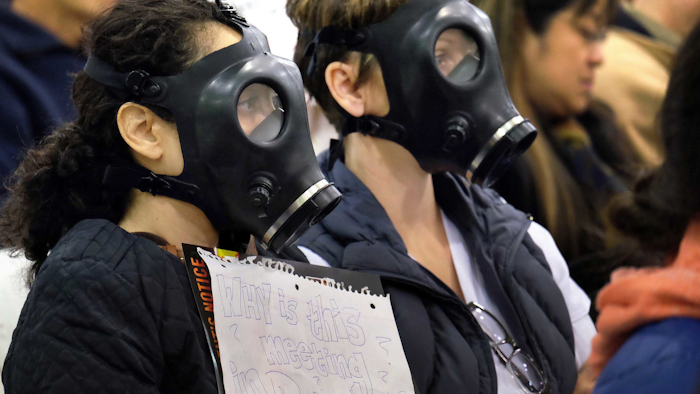 LOS ANGELES (AP) — A private oil and gas company was penalized $75,000 on Friday for secretly venting natural gas in the same Southern California canyon and at the same time that a utility was trying to cap a massive leak that drove thousands from their homes.
The California Division of Oil, Gas and Natural Resources on Friday announced the three violations of $25,000 apiece by the Termo Company. The regulator said in a statement that the venting appeared to be intentional and the company tried to hide it.
It was only discovered when air regulators with help from NASA flew over the natural gas field with an infrared camera to look at the larger leak and found the illegal pipe that was pumping out additional natural gas.
"Someone clearly made an effort to conceal the pipe, because even though we knew from aerial readings where it was generally, our field staff had to search carefully before finding it behind a tree," California Oil and Gas Supervisor Ken Harris said. "If it wasn't for the aerial surveillance, the illegal discharge could have continued indefinitely."
An after-hours phone message seeking comment from the Termo Company was not immediately returned.
The larger leak in the Aliso Canyon field was sealed in February by Southern California Gas Co. after spewing natural gas for months.
The residents of Porter Ranch who were displaced by the leak will have until next Friday to move back in to their homes under an agreement reached Friday between attorneys for the utility and the county. The funding for the residents' temporary housing had been scheduled to run out on Monday.