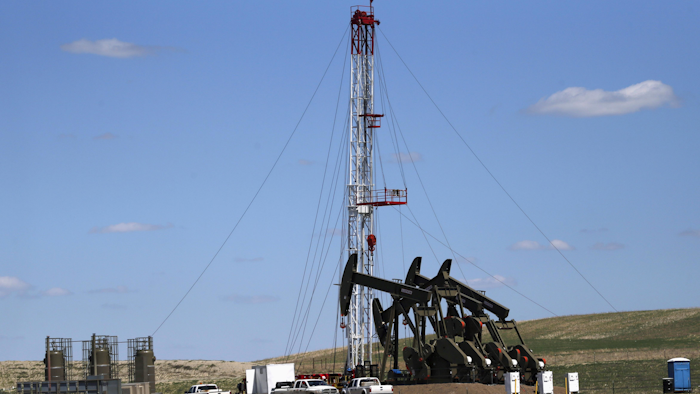 BISMARCK, N.D. (AP) — The number of drill rigs in North Dakota slid below 60 on Monday for the first time since 2009 as crude prices tumble and companies focus on richer portions of the state's oil patch.
State Department of Mineral Resources data show 59 rigs were operating Monday in western North Dakota's oil-producing region, down from 171 rigs on the same day last year and 192 in 2012.
North Dakota, the nation's No. 2 oil producer behind Texas, produced about 1.1 million barrels of oil daily in October, which was about 60,000 barrels per day less than the record set in December 2014. October production is the latest available; data typically lags about two months.
State and industry officials said North Dakota should be able to maintain oil production at the current level if the number of drill rigs stays above 50.
"As long as we can keep those rigs and completions at today's level, we'll be able to maintain that production," said Ron Ness, president of the North Dakota Petroleum Council.
There are more than 13,100 active oil wells in North Dakota, a number that has nearly tripled since 2010. Almost all of the new wells are targeting rich Bakken and Three Forks formations in the western part of the state.
North Dakota sweet crude was fetching $37 a barrel on Monday, about $25 less than the price a year ago.
The state has about 1,000 wells that have been drilled but have yet to undergo hydraulic fracturing, a process that uses pressurized water, chemicals and grit to break open oil-bearing rock. Completing the wells through hydraulic fracturing will be spurred if oil reaches about $60 a barrel, state and industry officials said.
Meantime, companies are "concentrating rigs in higher performing areas," said Justin Kringstad, director of the North Dakota Pipeline Authority.
In October, the last month data is available, 76 wells were both drilled and completed, down from 118 in September.
Kringstad said rigs have become more efficient in recent years and are now able to drill a well in two weeks, instead of the month it took in 2012.
The cost of drilling and completing a well in North Dakota also is dropping from about $9 million one year ago to about $8 million, he said.
"It's because of belt-tightening," Kringstad said. "Everyone is driving the costs down to keep the activity moving."