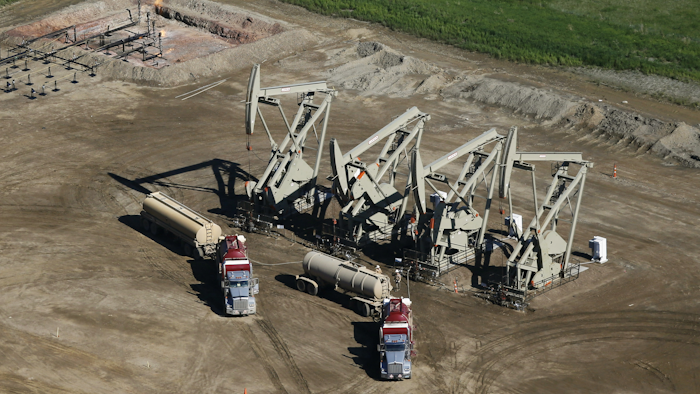 U.S. energy officials expect oil prices to increase slightly in 2016 but warned of "significant uncertainties" that could enable ongoing volatility in the market.

The latest Short-Term Energy Outlook from the Energy Information Administration expects prices on the Brent crude index to average $53 per barrel this year and $56 per barrel in 2016.

The West Texas Intermediate index, meanwhile, should average $49 per barrel this year and climb to $51 per barrel next year.

"The oil market faces many uncertainties heading into 2016, including the pace and volume at which Iranian oil reenters the market, the strength of oil consumption growth and the responsiveness of non-OPEC production to low oil prices," analysts wrote.

The EIA estimated that global oil inventories increased by 1.3 million barrels per day last month amid an ongoing supply glut that's depressed prices.

The Brent index declined from $48 per barrel in October to $44 per barrel last month, while the WTI index also declined by $4 per barrel despite a U.S. production decrease of about 60,000 barrels per day over that span.

The report said that inventories at the storage hub in Cushing, Oklahoma — the nation's largest — increased even though refineries took in more crude following the conclusion of seasonal maintenance.

The agency expects U.S. production to decrease through the third quarter of 2016 before starting to grow again late in the year. Production should average 8.8 million barrels per day next year, down from the anticipated 9.3 million barrels per day for 2015.

"Reductions in 2015 cash flows and capital expenditures have prompted companies to defer or redirect investment away from marginal exploration and research drilling to focus on core areas of major tight oil plays," the report said.

Gas prices, meanwhile, fell from an average of $2.29 per gallon in October to $2.16 per gallon last month. Another decline is expected this month before climbing back to $2.14 per gallon in the first quarter of next year.

The EIA also indicated that natural gas inventories hit a record high last month and that average prices would fall from $3.35 per million British thermal units last winter to $2.47 between October and March.

Electricity generated by natural gas also exceeded generation by coal-fired plants by 4 percent last month, the third consecutive monthly increase. Natural gas electricity outpaced coal in the U.S. for the first time in April 2015.