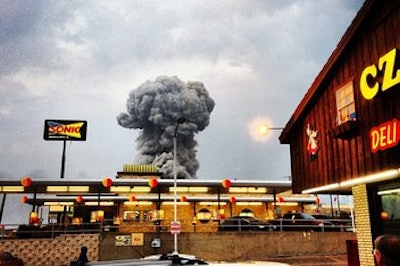 Most Americans don't know about chemicals being processed in manufacturing plants near their homes — or what kind of dangers that can bring. Chances are, they'll also never have to find out, as the majority of
plants process chemicals day in and day out with little fanfare. But there's also a good chance that a chemical facility's neighbors have no idea what kind of worst-case scenario could unfold in their backyard.
It's because of a breakdown in communication between chemical plants and nearby residents that Scott Harris, director of EHS Advisory Services for UL Workplace Health & Safety, says needs to change.
"Whenever there's a high-magnitude incident, a lot of people ask, 'Why didn't we see this coming? Why was [the plant] built so close to houses?'" Harris recently told Chem.Info. "It's not a well understood community issue."
The 2013 accident at a West Fertilizer Co. plant in Texas remains one of the most pointed-to examples of how living near chemical plants can be dangerous. After a fire at the plant broke out and first responders were on the scene, an explosion — as powerful as a 2.1-magnitude earthquake — ripped through the plant. Fifteen people were killed and about 160 were injured from the blast that damaged nearby apartments, a middle school and a nursing home.
The incident hastened discussions of chemical facility safety and helped clear the way for a new, improved Chemical Facility Anti-Terrorism Standards (CFATS) bill, which was passed in December. Though that bill scrutinized terrorism threats, many of the measures were meant to address safety for nearby populations in general — an issue that's been hovering over the chemicals industry for years.
In fact, a 2008 study by the Center for American Progress highlighted the risks facing populations who live, work and play near chemical plants. According to the report, the 101 most dangerous facilities posed safety risks to about 80 million Americans.
CFATS made strides in bolstering communication between government agencies and improving safety planning for plants, but Harris says the public is still woefully uninformed about what an accident could mean for them.
According to Harris, the problem is that few measures are in place to build a bridge between public and plant knowledge.
"You could argue that chemical plants are doing everything they're required to do, and they probably are," he said. "So then you can argue that we are not requiring enough — that's the education component."
One of the big concerns about improving transparency is a fear of what could happen if the information fell into the wrong hands. But realistically, if a terrorist wanted to get a hold of information about what's being processed inside a plant, they already could.
Chemical plants are required by the Environmental Protection Agency to make evaluations of their worst-case scenarios, how many people would be affected by a disaster and what kind of preventative maintenance the plant is doing. But according to Harris, the facility doesn't have to spread the word — and those who live nearby won't see that information, unless they know to ask for it.
"There's a reading room at the EPA and you can see the report there," Harris said.
Why does it matter? From Harris' point of view, informing people about what kinds of hazards they're close to will help them know how to be ready if the worst-case scenario unfolds.
In states such as Louisiana, where people are used to living next to a number of chemical plants, Harris says he's seen a level of preparation he wishes the rest of the nation would share.
"I've seen families there practicing putting on respirators — to them it's fairly normal," he said. "They were informed because the chemical plant made an effort to give those folks the info they needed."
Though Harris says chemical plants should help inform the public, the responsibility should mostly fall on the shoulders of city officials. According to Harris, homes, malls and even baseball fields are often built up around existing chemical plants, and officials should be more proactive and let residents know about the potential for accidents. From there, they can decide if they want to live with that danger or move on.
"We've got people living next to volcanoes [too]. We just want to tell them what the risk is," he said.
Until those conversations start happening, many won't know about the potential of a nearby disaster until an explosion comes.
"When disaster strikes, there's a tendency [for those responsible] to hunker down and go into damage-control mode," he said. "But there's nothing that will make people more mad than putting them in harm's way and not telling them anything."