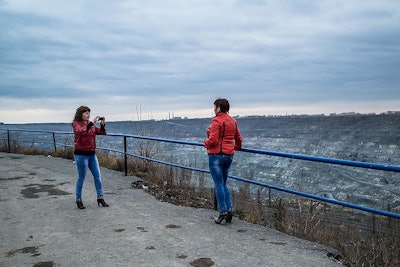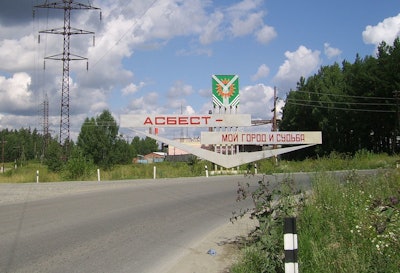 In much of the Western world, asbestos is known as the most notorious industrial carcinogen. But in Asbest, Russia, home to the world's biggest open-pit asbestos mine, it's a source of great pride.
A sign greeting visitors proclaims, "Asbest: My town and destiny." Newlyweds often pose for a photo in front of the panoramic view of the giant asbestos mine, which is also a local tourist attraction. And more than half of the town's economy is linked to the mine's success.
According to a 2013 New York Times article, around 17 percent of the town's 70,000 inhabitants work in the asbestos mine or in the factory owned by the same company that operates the mine. Throughout Russia, the asbestos industry sells about 1 million tons of asbestos — more than half of the world's supply — and employees about 38,500 people.
Asbestos, a naturally occurring mineral, was once used ubiquitously around the world. Its extremely strong and flexible fibers make it a versatile mineral that's great for fireproofing, filtering water and insulating homes. At one time in the U.S. about 3,000 to 4,000 products had asbestos in them.
But starting in the 1970s the risks of inhaling and ingesting asbestos became apparent — three types of cancer have been linked to the toxic mineral.
Now, about 50 countries have banned asbestos and it is tightly regulated in the U.S. and Canada. But demand is still high in China and India.
Recently, Vice News traveled to Libby, Montana, a town where about 400 people have died from asbestos-related illnesses. And while in Asbest, Vice reporters also found that despite the risks of breathing air in a town often shrouded by asbestos dust from the mine, few are afraid of the risks. While class-action lawsuits have shut down the asbestos industry in the U.S., weak regulation of the mineral have kept the industry alive and well in Russia and the developing world.
Asbestos still kills more than 100,000 people a year.