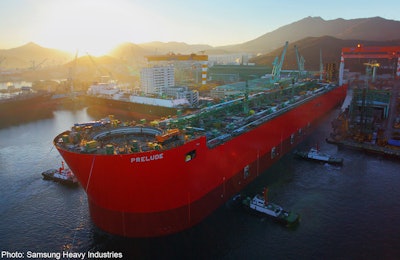 To call it a ship is an understatement. In fact, Shell refers to Prelude, the mammoth floating liquefied natural gas vessel, as a "facility." Whatever you call it, once it's launched, Prelude will be the largest offshore vessel to ever float on the high seas.
Currently under construction in a South Korean shipyard, it is slated to produce LNG off the coast of Australia. According to the New York Times, "Prelude is designed to take advantage of inaccessible or 'stranded' natural-gas deposits, stranded because until recently they cost too much to make their capture worthwhile."
Typically, gas collected offshore has to be piped to a facility on land that then purifies the gas and chills it until it becomes LNG. With Prelude, Shell will now be able to liquefy the gas while still at sea.
Hence, the enormity of Prelude. When it comes to its size, there is no shortage of awe-inspiring figures to give you an idea of how massive the vessel is. It was constructed with 260,000 metric tons of steel, which is more than was used to build the entire World Trade Center complex. It weighs 600,000 tons and has three 6,700-horsepower thrusters that will allow the vessel to turn into waves and ride out extreme weather.
A few years ago the projected costs for Prelude were $12 billion and the vessel is expected to produce 3.6 million tons of LNG a year.
Prelude is also so massive that one NYT photographer reported that it's nearly impossible to get the entire vessel in one shot. To create the pictures in this piece, the photographer reportedly spent two days on cranes, one fore and one aft, taking more than a thousand photos, and then later fit them together with editing software.
When will Prelude finally launch? According to the most recent reports, Shell has yet to commit to an official date, but has hinted that it could be later this year. We'll be waiting eagerly to see the revolutionary vessel in action.
Want to go onboard Prelude? Check out this nicely produced video by Shell that shows the last topside module being installed.