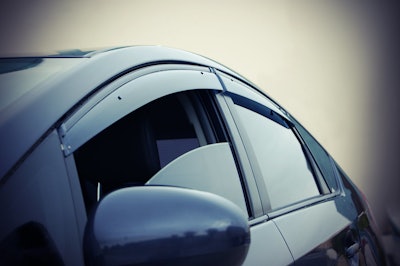 As one of the country's biggest chemical businesses, there's always trendy tech being made at Eastman Chemical Co.
But which innovations is the company most excited about? In a recent exclusive interview with Chem.Info, Steve Crawford, the company's Senior Vice President and Chief Technology Officer, highlighted some of the company's newer cutting-edge products.
Laminated Glass Interlayers:
There's a lot more to this glass than meets the eye. Using Saflex polyvinyl butryal (PVB) for the advanced interlayers, this glass works to improve acoustics and UV protection while also enabling heads-up display.
"Specifically, in auto acoustics, we see strong macro drivers for reduced cabin noise and improved energy efficiency through light-weighting. The market is also looking to expand the use of heads-up displays so information can be accessed from the windshield," Crawford said.
The Unbreakable Pint:
Eastman's Tritan brand is most often associated with tough, BPA-free water bottles. But the company has applied the copolyester technology to a range of products. One notable innovation has been the "unbreakable pint" — a durable pint glass that was born out of a partnership with a brewery in England. Fearing a potential ban on pint glasses — which account for 87,000 violent incidents each year in England — Eastman came up with a durable, BPA-free pint glass using Tritan technology.
"Tritan is a leading copolyester used in everything from consumer appliances and medical devices to sports bottles to baby bottles. It has abundant toughness, clarity and chemical resistance, and we're excited about the broad, new range of applications we've been able to use Tritan for," Crawford said.
Optical Films:
Tapping into the macro trend of mobility in electronics, the company has been innovating optical films for LCD TVs and mobile devices.
According to Crawford: "In mobile devices, our innovation enables dramatically improved optical properties when viewing a device screen at an angle while enabling the device to be significantly thinner."
Rubber Additives:
"A great example is our performance resins which can help tire manufacturers deliver a product that optimizes wet grip and rolling resistance without compromising other key performance characteristics," Crawford said.
In addition to resins, Eastman also sells insoluble sulfur and antidegradants in its product line for the tire industry.