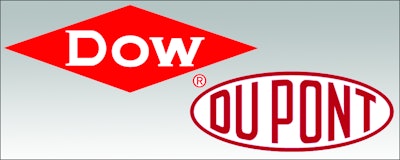 The proposed $130 billion merger between Dow Chemical and Du Pont will join two of world's largest chemical companies later this year -- then split them into three separate entities within two years. 

But in the interim, how will the new DowDuPont stack up against BASF, the world's largest chemical company? Here's a look at all three industry titans:

Revenue: BASF reported nearly $90 billion in revenue last year to lead the chemical sector. Dow trailed in a distant second with $58.2 billion, while DuPont -- which spun its chemical operations off into the separate Chemours Co. during the summer -- ranked sixth at just less than $35 billion. The combined revenues of Dow and DuPont, however, would be enough to narrowly exceed BASF.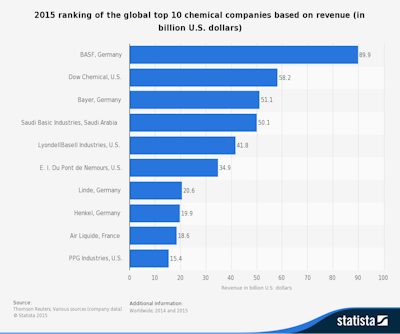 Sales: Dow reported full-year 2015 sales of $48.8 billion last week, a decline of 16 percent compared to 2014, while DuPont's sales of $25.1 billion last year were down 12 percent over that span. Both companies attributed the performance to the strength of the dollar, while sharply lower crude oil prices hurt Dow sales. BASF is scheduled to report 2015 totals later this month, but warned that its numbers could suffer to due struggles in its oil and gas division. The German company reported sales of 74.3 billion euros -- or roughly $83.2 billion -- in 2014.

Profit: Dow reported a profit of $3.6 billion in the fourth quarter of 2015, a sharp increase from the same quarter in 2014 due to the sale of its chlorine business. DuPont, meanwhile, reported a quarterly loss of $253 million. The company reported a nearly $800 million restructuring charge in its latest quarterly, largely due to severance and other costs related to job cuts ahead of its merger. BASF reported a nearly $1.6 billion profit for the final quarter of 2014 but last month signaled that oil prices could hurt fourth quarter 2015 totals. Its oil and gas segment alone will write down $653 million for the quarter.

History: BASF is in the process of celebrating its 150th birthday. The company is based in Ludwigshafen, but it got its start across the Rhine River in Mannheim in 1865, when Friedrich Engelhorn realized that the coal tar produced by his gas factory could be used to make textile dyes. Dow, at more than 118 years, is the youngest of the trio, founded in Midland, Michigan by Herbert H. Dow in 1897. DuPont, meanwhile, traces its roots back more than 213 years, when E.I. du Pont, three years after fleeing France, broke ground on a gunpowder mill along the Brandywine River in Delaware.

Employees: DuPont's global workforce totaled about 54,000 last month, while Dow employs about 49,500. Those totals alone wouldn't be able to match BASF's workforce of more than 113,000, but the pending merger between the U.S. companies has already led to layoffs. DuPont alone plans to cut about 10 percent of its global workforce.