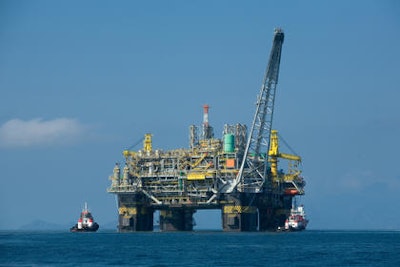 BAKU, Azerbaijan (AP) — Azerbaijan's state oil company SOCAR said Sunday that it was still searching for 29 workers missing after a fire swept through an offshore oil platform.
But in an acknowledgment that they were unlikely to be found alive, the company asked the four other countries who share the Caspian Sea to search their own territorial waters for bodies of the missing oil workers. SOCAR said notices were sent to the border guard services of Iran, Kazakhstan, Russia and Turkmenistan.
The missing workers were on a lifeboat that toppled into heavy seas late Friday after the oil platform caught fire when an underwater gas pipeline was damaged in the storm.
A ship that had been sent to help with the rescue operation recovered the body of one of the workers who had been in that lifeboat and saved three other workers, the company and emergency services said. In all, 33 workers were rescued.
SOCAR said the platform in the offshore Guneshli field was still burning Sunday because it had reached one of the oil wells. The company first expressed hope that the fire would be extinguished by the end of the day, but later said it was now expected to happen Monday morning.
SOCAR's first vice president, Khoshbakht Yusifzadem, said the company was working with Azerbaijan's emergency services to search for the 29 missing workers by helicopter and ship.
The Guneshli 10 platform, which went into operation in 1984, services 24 oil wells and four gas wells, producing 920 tons of oil and 1 million cubic meters (35 million cubic feet) of gas per day.