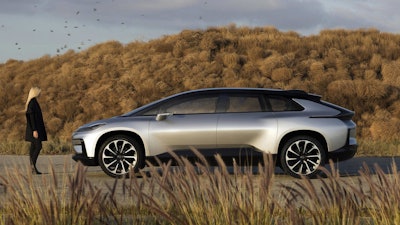 After salary cuts and mandatory unpaid leave rocked Faraday Future, employees of the struggling electric car company filed suit against Chinese backer Evergrande on claims of conspiracy.
The employees are seeking redress for money Evergrande has allegedly cost them for what they characterize as poor management of the company. According to The Verge, the suit was filed in the Los Angeles County Superior Court Nov. 8 and alleges that Evergrande "plotted" to let Faraday Future fail and take the intellectual property generated around its first planned vehicle, the luxury FF91.
"We filed the lawsuit today on behalf of Faraday employees to hold Evergrande responsible for its oppressive and heavy-handed conduct toward our clients in their capacity as minority shareholders," said Mike Swartz, a lawyer working on behalf of the employees, according to a statement acquired by The Verge.
The employees who filed the suit are President of Go-To-Market Strategy Allen Lu, Vice President of Vehicle Engineering Mattias Aydt, and Senior Director of Vehicle Software Connie Zhao.
Faraday Future employees have also started a Go Fund Me campaign to provide funds for people who have been furloughed or shifted to a reduced salary.
This major impact to the employees comes after a tumultuous year for the California-based electric car start-up. The Evergrande group committed gradual payments that added up to $2 billion starting in 2017, in exchange for a 45 percent stake in the company. With most of that money spent by mid-2018 and production of the FF91 supposed to begin in late 2018, Evergrande and Faraday struggled to start up production and pay suppliers. The contractor behind the digital effects used in Faraday's flashy CES 2017 trade show presentation sued the automaker in January for being slow to pay for a $1.8 million job.
Faraday Future CEO and founder Jia Yueting made a deal with Evergarde in the summer for the investor to contribute $300 million in July with more to follow, provided Jia stepped down from his director positions. According to Evergarde, he did not, and the funding was not sent. Months of negotiation later, Faraday Future filed for arbitration in China, a case which is still ongoing. Faraday Future was allowed by the court to seek up to $500 million outside funding, but so far this has simply left the company further out into the cold, without an additional investor.