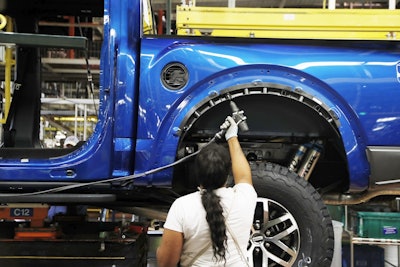 When Ford Motor Co. reports third-quarter earnings Wednesday afternoon, investors will be looking for details on how the company plans to remake itself.
Ford CEO Jim Hackett has promised $11 billion in cuts over five years as the company resizes to better compete globally, and it has confirmed that some employees will lose jobs. Its earnings have been shrinking, and Wall Street analysts expect more of the same during the July-through-September period.
Excluding one-time items, Ford is expected to make a still healthy 28 cents per share, down from 43 cents a year ago. Revenue is expected to rise 1 percent to $36.98 billion, according to analysts polled by FactSet.
Earnings were expected to fall for the quarter because sales have dropped in both the U.S. and China. U.S. sales are down 2.4 percent so far this year.
Analysts have complained that Ford hasn't given many details of the restructuring plan, and the stock price has fallen because of that. Shares have lost about one-third of their value this year, trading at $8.31 Wednesday afternoon.
Ford says it has released some parts of the grand plan to restructure. On Wednesday, it announced big changes in Asian operations by making its China business a stand-alone unit and recruiting the head of local automaker Chery Automobile to be its new China CEO.
For months, dealers have been complaining about an aging vehicle lineup, with some vehicles essentially staying the same since the 2011 model year.
But at a meeting with U.S. dealers on Oct. 17 in Las Vegas, company executives showed off new vehicles designed to update Ford's offerings in the coming years.
Included were the Ranger small pickup, which Ford started to produce this week, as well as new versions of the Escape small SUV and Explorer large SUV that will reach showrooms next year.
In an interview Wednesday, North America President Kumar Galhotra conceded that Ford had let its products get too old, but pledged not to let it happen again.
"Right now our product portfolio isn't as fresh as it should be, but by 2020 it's going to be the freshest in the industry," Galhotra said.
Ford announced previously that it would get out of the declining market for sedans in the U.S. to focus on SUVs, many with hybrid or electric drive systems. The iconic Mustang sports car eventually will be Ford's only U.S. car.
The company also has announced a new U.S. marketing campaign.
Morgan Stanley analyst Adam Jonas last week downgraded Ford shares from "overweight," which means "buy," to "equal weight," which means "hold." He also cut his one-year stock price target from $14 to $10.
Jonas wrote in a note to investors that the restructuring plan, while significant "lacks visibility." He's concerned that "the capital markets do not have confidence in Ford to take decisive action fast enough."