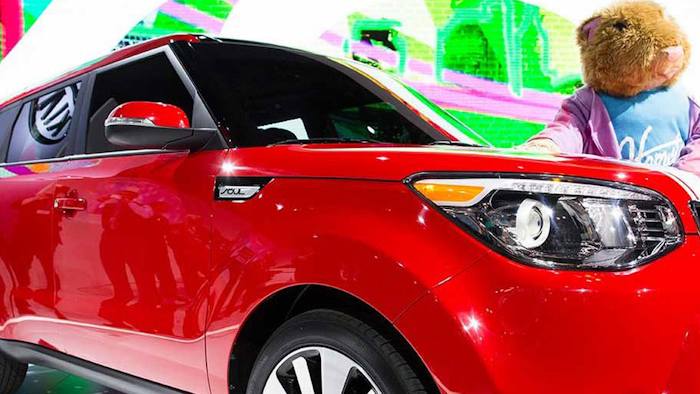 Kia, the South Korean brand that has spent years trying to overcome a reputation for shoddy cars, placed first out of 33 brands in one of the auto industry's most closely watched quality surveys — J.D. Power and Associates Initial Quality Study. Kia owners reported 83 problems per 100 cars, beating the industry average of 105.
"Ranking number one in the entire industry for initial quality is the result of Kia's decade-long focus on craftsmanship and continuous improvement, and reflects the voice of our customers, which is the ultimate affirmation," said Michael Sprague, chief operating officer for Kia Motors America, in a statement. "As the highest ranked brand in the industry, there is no doubt Kia is a world-class automaker."
Overall, the quality of vehicles seems to have improved as 21 of the 33 brands in the study showed an improvement over their 2016 scores in the study. Chrysler and Jeep were the most improved brands with 28 fewer reported problems than a year ago each — but both are still worse than the industry average.
"Manufacturers are current making some of the highest-quality products that we've ever seen," says Renee Stephens, vice president of automotive quality at J.D. Power. "It has become clear that automakers are listening to the customer, identifying 'pain points' and are focused on continuous improvement."
Here's how the brands stacked up, the number of problems reported per 100 vehicles and the number of positions the brands rose or fell from a year ago.
1. Kia (83, +1)
2. Porsche (84, -1)
3. Hyundai (92, +1)
4. Toyota (93, +5)
5. BMW (94, +1)
6. Chevrolet (95, +1)
7. Buick (96, +4)
7. Lexus (96, +2)
7. Lincoln (96, +1)
10. Nissan (101, +10)
11. Ford (102, +1)
12. GMC (103, +4)
12. Infiniti (103, -7)
14. Volkswagen (104, +9)
INDUSTRY AVERAGE: 105 (down from 112)
15. Audi (110, +1)
16. Mercedes-Benz (111, -2)
17. Cadillac (112, +4)
18. Jeep (113, +11)
19. Ram (114, -6)
20. Chrysler (115, +11)
21. Mitsubishi (116, +5)
22. Dodge (117, -4)
23. Subaru (118, +7)
23. Honda (119, -10)
25. Acura (122, +1)
26. Scion (123, -1)
27. Jaguar (127, -24)
27. Mazda (127, -4)
27. Mini (127, -6)
30. Land Rover (132, -2)
31. Volvo (152, -12)
32. Fiat (174, +1)
33. smart (216, -1)
Source: J.D. Power and Associates
----------------------------------------------------------------------------------------------------------------
Top Three Models Per Segment
City Car: Chevrolet Spark
Small Car: Hyundai Accent, Chevrolet Sonic, Kia Rio
Small Premium Car: Lexus CT, BMW 2 Series, Mercedes-Benz CLA-Class
Compact Car: Toyota Corolla, Kia Forte, Hyundai Elantra
Compact Sporty Car: Buick Cascada (tie), Scion tC (tie), Hyundai Veloster
Compact MPV: Kia Soul
Compact Premium Car: Lincoln MKZ, Lexus ES, BMW 3 Series
Compact Premium Sporty Car: Audi TT, Porsche Boxster, Porsche Cayman
Midsize Car: Toyota Camry, Nissan Altima, Honda Accord
Midsize Sporty Car: Dodge Challenger
Minivan: Chrysler Town & Country, Dodge Grand Caravan
Midsize Premium Car: Lexus GS, Audi A7, Hyundai Genesis
Midsize Premium Sporty Car: Porsche 911
Large Car: Hyundai Azera, Buick LaCrosse, Chevrolet Impala
Small SUV: Kia Sportage, Hyundai Tucson, Buick Encore
Small Premium SUV: Audi Q3, BMW X1
Compact SUV: Chevrolet Equinox (tie), GMC Terrain (tie), Ford Escape
Compact Premium SUV: Porsche Macan, Lincoln MKC, BMW X3
Midsize SUV: Toyota Highlander, Kia Sorento, Nissan Murano
Midsize Premium SUV: BMW X5, BMW X6, Lexus RX
Midsize Pickup: Nissan Frontier, GMC Canyon, Chevrolet Colorado
Large SUV: Chevrolet Tahoe, Toyota Sequoia, Ford Expedition
Large Premium SUV: Lincoln Navigator, Infiniti QX80, Land Rover Range Rover
Large Light Duty Pickup: Chevrolet Silverado LD, GMC Sierra LD
Large Heavy Duty Pickup: Chevrolet Silverado HD, Ford Super Duty, GMC Sierra HD