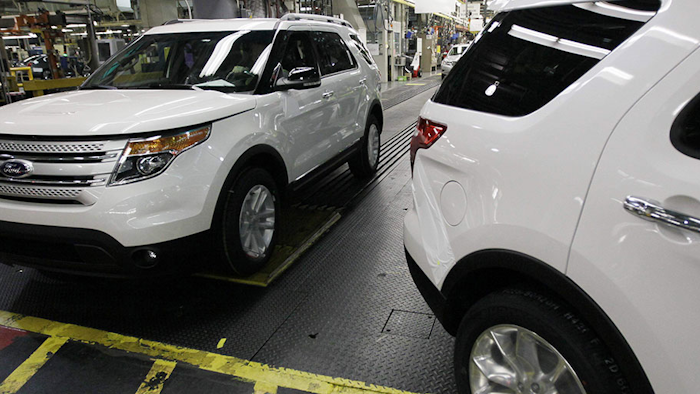 Ford Motor Co. paced Detroit's Big Three automakers with a 20 percent increase in vehicle sales last month.

The company said in its monthly sales report that retail sales were the highest for a February since 2005 and that its SUV sales set a record for the month. In addition, Ford's Lincoln luxury brand saw sales increase by 30 percent compared to February 2015.

Meanwhile, Fiat Chrysler sales increased by 12 percent last month for its best February since 2006.

The automaker's Jeep brand set a February record after increasing sales by 23 percent, while Ram Trucks sold at a 14-year high after increasing 27 percent.

Dodge sales also increased by 12 percent, while the flagship Fiat and Chrysler brands declined by 9 percent and 26 percent, respectively.
General Motors saw sales decline by 1.5 percent last month, which the company attributed to planned reductions in rental deliveries. Retail deliveries increased 7 percent.
Chevrolet and Cadillac sales were down slightly and up slightly, respectively, while Buick climbed by 2.3 percent and GMC fell by nearly 7 percent.

Among foreign automakers, the flagship Honda and Nissan brands each set February U.S. records, largely on the strength of car sales.
Honda and Nissan sales increased by 12.8 percent and 10.5 percent, respectively, after factoring in declines among their luxury Acura and Infiniti brands. Honda division sales, however, increased by nearly 15 percent while Nissan jumped by nearly 13 percent.
Toyota reported a sales increase of just more than 4 percent, with a 4.7 percent increase among Toyota models. Lexus sales fell by nearly 16 percent.
Those six companies comprised more than 75 percent of the U.S. auto market in January, according to numbers from The Wall Street Journal.
Volkswagen continued to suffer in the months following its diesel emissions scandal. VW sales declined by more than 13 percent in February.