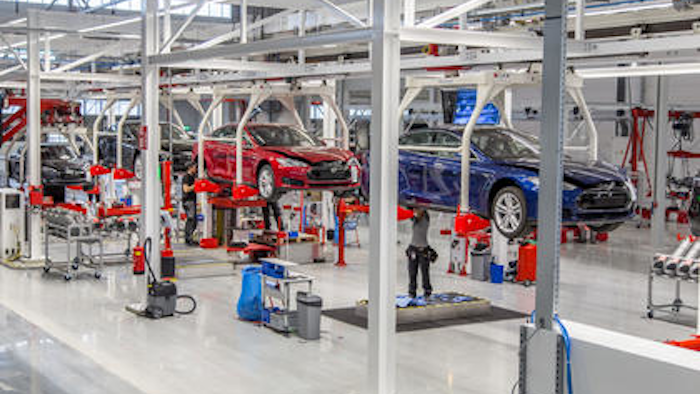 Last week, Tesla opened a new factory in Europe, marking a significant step toward a production goal of 500,000 cars annually by 2020.
The nearly 78,000-square-meter facility boasts a 750-meter indoor track, which is also Europe's first indoor production test track, putting the cars through a series of intense speed, noise and vibration tests before they're delivered.
In 2013, the innovative electric car company opened a reassembly plant in Tilburg, Netherlands, in a space borrowed from a Tesla service station.
The new plant, also in Tilburg, will be the company's first dedicated facility outside of its home market and will double European production from 200 to 450 cars per week to reduce wait times for its Model S.
Using parts manufactured in Tesla's factory in Fremont, California, the Tilburg facility will assemble upward of 90 cars daily, with room to expand.
The factory will eventually expand production to include the Model X, the fully electric SUV scheduled for release on Sept. 29, 2015.
In an effort to transition into a mass-market car company instead of a luxury brand, the company is also planning to release a Model 3 — ballparked at around $35,000 — in less than three years.
Do you think Tesla's new factory will be enough to keep up with demand? Comment below or tweet @MNetKatie.