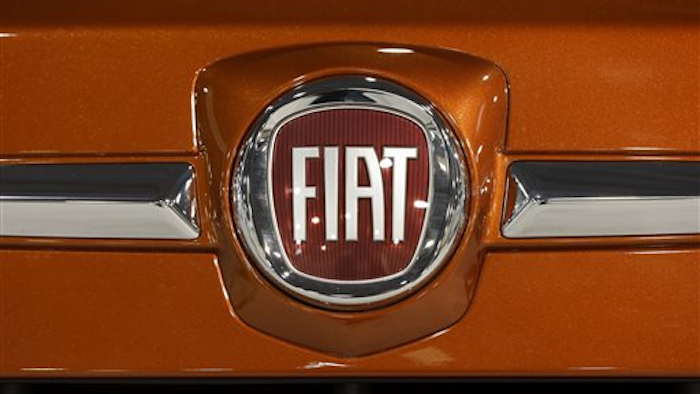 MILAN (AP) — Fiat Chrysler Automobiles on Thursday raised its revenue forecast after strong sales in North American and a recovery in the European market boosted second-quarter profits by 70 percent.
The rosy results come as the carmaker could be required to pay billions of dollars to get potentially defective Ram pickups and older Jeeps off the road under a deal with safety regulators to settle claims that the automaker mishandled nearly two dozen recalls. The offer to buy back some 500,000 vehicles is the largest such action in U.S. history.
Fiat Chrysler reported its net profit in the three months ending June 30 was 333 million euros ($364 million), compared with 197 million euros in the same period last year.
It said it was raising its revenue forecast to 110 billion euros from 108 billion euros, on worldwide shipments of 4.8 million units, at the low end of the previous range. It maintained its net profit forecast of between 1 billion euros and 1.2 billion euros.
Shares rose 4.5 percent to 13.82 euros in Milan trading.
The carmaker said North American sales volumes were up 8 percent, boosted by the Jeep Renegade and new Chrysler 200, pushing net revenues in the region up by 40 percent. European volumes were up 12 percent, boosting revenues 19 percent.
Latin American volumes, meanwhile, sank by a third due to weak economic conditions in Brazil and Argentina. Asian sales also slipped, by 15 percent, due to increased competition in China, although revenues were in line with a year earlier.
Group net revenues were up by a quarter to 29.2 billion euros.
Fiat Chrysler is planning a public listing of a 10 percent share in the luxury sportscar maker Ferrari in the fourth quarter, an effort to raise capital to fund its business plan. CEO Sergio Marchionne also has been vocal about the need for another round of consolidation in the auto industry, but hasn't yet found another CEO willing to risk a big merger.
Ferrari's revenues were up 5 percent on higher volumes, while Maserati's slipped 17 percent as demand dropped for the Ghibli and Quattroporte models.