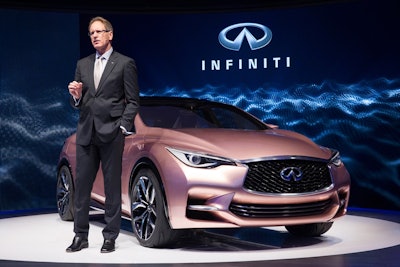 General Motors Co. has named an Infiniti executive to head its Cadillac division, which has struggled with sagging U.S. sales this year while competing luxury brands have advanced.
GM announced Friday that Johan de Nysschen will become president of Cadillac and a GM executive vice president, starting Sept. 1. Cadillac will operate as a global brand and "more distinct" business unit, the company said.
De Nysschen, 54, has headed Nissan's Infiniti brand for two years. Before that, he was chief executive of Volkswagen's Audi USA and president of Audi Japan.
Cadillac is one of few luxury brands with lower sales so far this year in the U.S. Sales fell 1.9 percent through June 30 from a year earlier, according to Autodata. That compares with a 13.6 percent increase for Audi during the same period, a 12.1 percent gain for BMW and a 13.6 percent rise for Infiniti.
Globally, Cadillac has fared better, with a 12 percent increase year to date.
GM said Thursday that the most recent head of Cadillac, Bob Ferguson, had returned to his former position as the company's chief lobbyist in Washington.
GM shares rose 15 cents to $37.90 in midday trading.