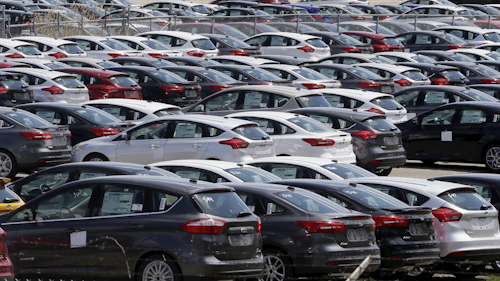 Detroit's "Big Three" automakers this week each reported lower January sales compared to the first month of 2016.
General Motors sales declined by 4 percent over that span, while Ford sales slid by 1 percent and Fiat Chrysler sales dropped by 11 percent.
GM's Buick fared worst among its four brands with a 28 percent decline, followed by Cadillac at a 4 percent drop and Chevrolet, its largest brand, at 2 percent. GMC was the only GM brand to see an increase at a modest 1 percent.
Ford said that its retail sales increased compared to the previous January, but that sales to rental fleets fell by 13 percent. Its Lincoln luxury brand enjoyed a strong month with a 22 percent sales increase.
Fiat Chrysler also blamed its decline in large part on fleet sales and said that retail sales were flat. FCA's Ram truck brand climbed 5 percent but was offset by declines of 7 percent by Jeep, 9 percent by Fiat, 17 percent by Dodge and 40 percent by Chrysler.
Toyota also reported an 11 percent sales decline last month, with a 25 percent drop in its Lexus brand.
Japanese rivals Nissan and Honda, however, reported increases of about 6 percent each.
Honda said that strong flagship division sales and flat results for its Acura line translated to a January sales record.
Nissan also set a record for the month as its Infiniti brand accelerated by 36 percent.
Those six companies comprised more than 75 percent of the U.S. auto market in December, according to The Wall Street Journal.