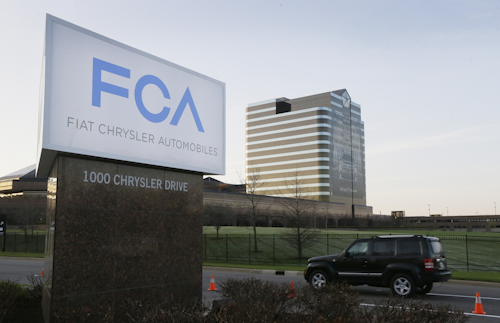 Fiat Chrysler announced Sunday plans to spend $1 billion in U.S. manufacturing. The move includes modernizing factories in Warren, MI and Toledo, Ohio as well as adding 2,000 new jobs.
The company also announced the addition of three new Jeeps to its lineup. The Warren plant will be modernized to produce the Jeep Wagoneer and Grand Wagoneer SUVs while the Toledo plant will get new equipment to produce the new pickup truck, the Associated Press reports.
"The expansion of our Jeep lineup has been, and continues to be, the key pillar of our strategy," Sergio Marchionne, Chief Executive Officer of FCA N.V., said in a statement. "Our commitment to internationalize the Jeep brand is unwavering, and with these last moves, we will finally have the capacity to successfully penetrate markets other than the U.S. which have historically been denied product due to capacity constraints.  In addition, these all new products will reach new consumers as well as those that have been part of the Jeep tradition."
Sunday's announcement is the second phase of an industrialization plan — announced in January 2016 — that called for the realignment of the company's U.S. manufacturing operations in response to a shift in market demand for trucks and SUVs and to further expand the Jeep and Ram brands.
"The conversion of our industrial footprint completes this stage of our transformation as we respond to the shift in consumer tastes to trucks and SUVs, and as we continue to reinforce the U.S. as a global manufacturing hub for those vehicles at the heart of the SUV and truck market," Marchionne said.  "These moves, which have been under discussion with Dennis Williams and the rest of the UAW leadership for some time, expand our capacity in these key segments, enabling us to meet growing demand here in the U.S., but more importantly to increase exports of our mid-size and larger vehicles to international markets."
The upgrades would also give the Warren plant the capabilities to make Ram pickups — currently produced in Saltillo, Mexico — however Fiat Chrysler hasn't said if there are plans to shift production.
Modernization at the factories is planned to be completed by 2020. The company stated that more than 2,000 jobs also will be added to support production of these models.