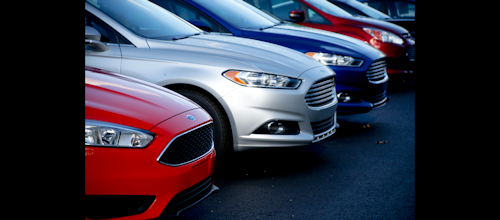 The largest automakers in the U.S. market attributed sluggish October sales numbers to two fewer selling days last month compared to October 2015.

Each of the five largest companies to report their latest monthly totals Tuesday disclosed declining sales last month. General Motors saw the smallest drop at less than 2 percent, while sales of Fiat Chrysler vehicles fell by 10 percent.

GM blamed its numbers on a previously planned reduction in sales of rental cars and noted that sales to retail customers actually increased last month.

"Based on initial estimates, GM outperformed the entire U.S. retail industry by a wide margin," the company said in a statement.

Chevrolet, GM's largest brand, saw slightly lower sales, while GMC and Cadillac fell by 6 percent and 9 percent, respectively. Buick sales increased by 7 percent.

Among FCA's brands, however, only Ram trucks reported an increase; the flagship Chrysler brand alone watched sales fall by 45 percent compared to October 2015.

Among overseas automakers, Toyota sales declined by nearly 9 percent while Nissan and Honda said that sales of larger vehicles kept their declines at about 2 percent and 4 percent, respectively.

Trucks, SUVs and crossovers have enjoyed a strong run of sales due to continued low gas prices in the U.S.
Those five automakers, along with Ford, accounted for more than 75 percent of the U.S. auto market in September, according to The Wall Street Journal. Ford plans to report its October totals later in the week following a recent fire at its headquarters.

Volkswagen, meanwhile, reported a 19 percent drop in U.S. sales compared to the previous October — the first full month following the disclosure of its diesel emissions scandal by federal authorities.