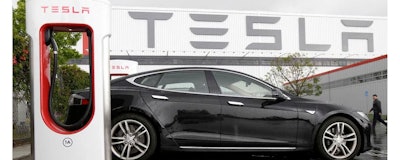 Many traditional carmakers are huge companies with $100+ billion in sales and loads of cash to spend. And yet, a relatively small company from Palo Alto has them beat in what most people consider the future of the automotive industry: electric cars. The company from Palo Alto I am referring to is Tesla Motors, which has established itself as arguably the most successful manufacturer of electric cars over the past few years.

Back in 2006, Tesla's founder and CEO described his master plan as simply as this: "Build sports car. Use that money to build an affordable car. Use that money to build an even more affordable car". In other words, he promised that Tesla would "plow all free cash flow back into R&D to drive down the costs and bring the follow on products to market as fast as possible". And that's exactly what the company has been doing.

The chart below illustrates how Tesla's relentless focus on research and development sets it apart from more traditional carmakers, of which most have yet to bring to market a battery-powered car half as popular as Tesla's Model S, Model X and the yet to be delivered Model 3. In the past year, Tesla's R&D intensity, i.e. the ratio of R&D investments to revenues, a commonly used indicator for how innovative a company is, was 17.7 percent. That's roughly three times as high as it was for most traditional carmakers.
This chart shows the R&D intensity for Tesla and several traditional car manufacturers.