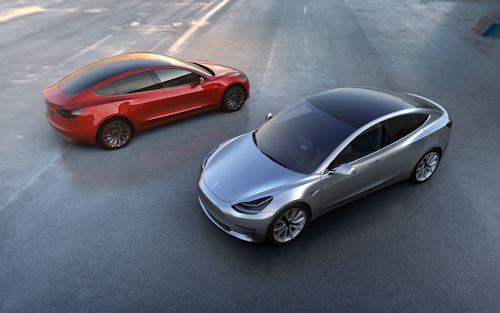 Tesla's website saw a 798 percent one-day spike and racked up 7 million combined mobile and desktop visits in three days as it launched its Tesla Model 3 in the U.S, overtaking all its main rivals, according to data published by digital market intelligence firm SimilarWeb.
Based on combined mobile and desktop visits from March 31 to April 2, Teslamotors.com received more than 7 million U.S desktop and mobile visits from over 100 countries.
With reservations for the Model 3 beginning on March 31, their site saw  a one-day increase of traffic of 798 percent, with U.S visits jumping from 220,000 on March 31 to a peak of 1.9 million on April 1.
In contrast on April 1, Ford.com saw 358,000 U.S visits, followed by Toyota.com with 320,000 visits and 130,000 for Nissanusa.com — competitors that typically get more traffic and have stronger brand recognition.
Even one week after the launch, on April 8, Tesla traffic remained in pole position, securing 582,670 daily visits, followed by Ford (493,926), Toyota (301,264) and Nissan (161,028) suggesting the carmaker may have secured a longer term online foothold in the market.
Overall, the majority of Tesla's web traffic over its launch period came from the U.S. (48 percent), followed by Canada (6.64 percent), the UK (5.58 percent) Germany (4.25 percent) and India (2.41 percent).
SimilarWeb found that 50 percent of Tesla's web traffic at the launch came from organic (unpaid) search, demonstrating powerful brand recognition, and follows Tesla's reputation as one of the carmakers which has begun to lead in online search by customers. Searches were extremely targeted with 40 percent of desktop searches specifically for Tesla's Model 3.
For more information on automakers, their digital strategies, and what car shoppers search for online, download our recent Auto Report.
SimilarWeb is a global cross-device market intelligence company used by 100,000s of businesses worldwide, including Google, eBay, Nike, and United Airlines, to discover, decide and deploy their digital strategy. SimilarWeb was recognized in 2015 as one of Europe's top 100 fastest growing companies by Red Herring, was selected by Wired Magazine as one of the hottest 100 start-ups in Europe, and was named by Business Insider as one of the 50 enterprise startups to bet your career on in 2016.