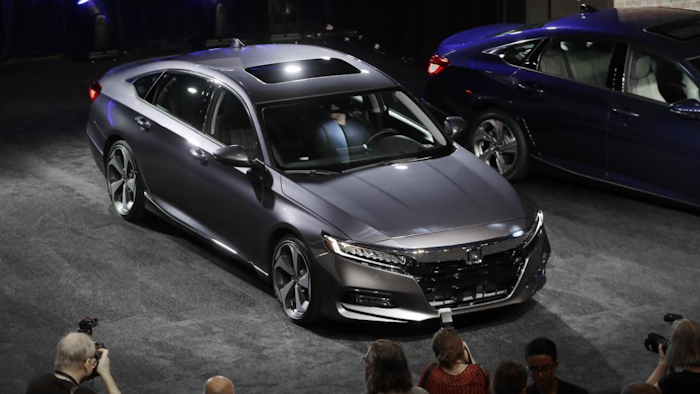 Honda will stop production of the Accord for 11 days between the end of March and the end of July to make up for excessive inventory and decreasing customer interest.
Workers at the Accord plant in Marysville, Ohio will have a choice during the shutdown of taking unpaid days, using vacation days, or coming in to the plant to work on non-production related tasks. About 4,200 people are employed there.
A report from The Wall Street Journal (via Jalopnik) says that over 100 days' supply worth of Accord were sitting in lots, too many to sell. "Current market conditions" indicate customers aren't looking for Accords, a Honda spokesperson told WSJ. This model stayed on the lot for 74 days on average, according to a CNBC report from September 2017. That's much longer than the industry standard, which last peaked at 80 days in 2009.
WSJ points out that while American automakers have begun to reduce sedan production or stop producing certain sedan lines over the past year, Honda (as well as Toyota and Nissan) have continued to put out sedans. The switch in automotive preference may come from the preponderance of SUVs and trucks selling in the United States now during a period of low gas prices, as well as from competition within the sedan market itself: the Camry recently saw a redesign that might have pushed it ahead of its Honda rival. Toyota Camry sales increased by 2.3 percent through February 2018, while Accord sales are down 12.9 percent.
In 2017 GM extended its normal summer shutdown due to declining car sales. Truck and SUV sales, on the other hand, were rising.