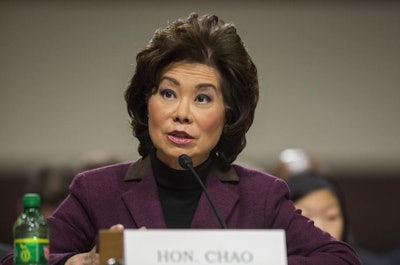 Federal transportation regulators hope for more transparency from the auto and tech industries as they update standards for self-driving vehicles.

Transportation Secretary Elaine Chao, The Wall Street Journal reports, said this week that her agency — in an effort to keep up with rapidly advancing technology — is pushing to bolster guidelines for autonomous vehicles less than nine months after their initial publication.

But Chao, who spoke at a safety conference in Detroit, also said that the companies racing to develop autonomous vehicles — from conventional automakers to Silicon Valley giants to startups — should provide more information about their technology to the public as regulators make those decisions.

"The innovators need to speak up and help the rest of our population understand," Chao said.
The Obama administration unveiled its initial guidelines in September in an effort to avoid widely varying state standards that self-driving proponents warned could stifle the industry in the U.S.

Some safety advocates criticized the move and argued that the agency should go through the normal rule-making process, but officials countered that could take years.

Chao told the conference that the National Highway Traffic Safety Administration continues to work on policies to "overtake" that initial outline. She said that the Trump administration is averse to overly burdensome regulations and cited forecasts that self-driving cars could dramatically reduce traffic accidents and fatalities.

But Chao also said that "pressure is mounting on the federal government to do something."

"The future of autonomous vehicles is very bright," Chao said. "But we have a responsibility to ensure that the technology is safe and secure."