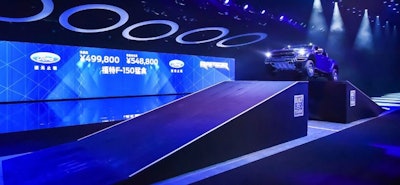 Ford's sales in China plummeted by more than 20 percent in March compared to the same month in 2016, The Wall Street Journal reported last week.

The Michigan automaker blamed the numbers on the government's move to curb a tax break for vehicles with smaller engines; the report said that Ford models that were not eligible for that incentive saw increased sales for the month.

"We continue to see strong demand from Chinese customers for our premium Taurus large sedan, Edge and Everest SUVs and performance vehicles in the first quarter," Peter Fleet, who heads Ford's marketing in the Asia Pacific region, told the paper.

But the report comes as Ford seeks to boost its presence in China — and as forecasts grow increasingly pessimistic about the world's largest auto market.
Ford traditionally lagged behind General Motors, Volkswagen and other automakers that capitalized on growing demand for vehicles from China's rising middle class. CEO Mark Fields made the country a top priority, and Ford sold a record 1.27 million vehicles in China in 2016, the Journal noted.

The company recently announced that its Chinese joint venture would introduce its first plug-in hybrid next year and said that a forthcoming fully electric SUV would be sold in the country. Ford also plans to manufacture electrified powertrains in China by 2020 and will expand its research and development center in Nanjing.

Although analysts expect growth in the Chinese auto market to moderate this year, consumers continue to fuel strong demand for SUVs as the government requires automakers to dedicate more production to electric vehicles.

Ford's March sales numbers also did not include the Lincoln luxury brand, which benefitted from growing demand for luxury vehicles. The automaker expects to open a new Lincoln manufacturing plant in Chongqing by the end of 2019.