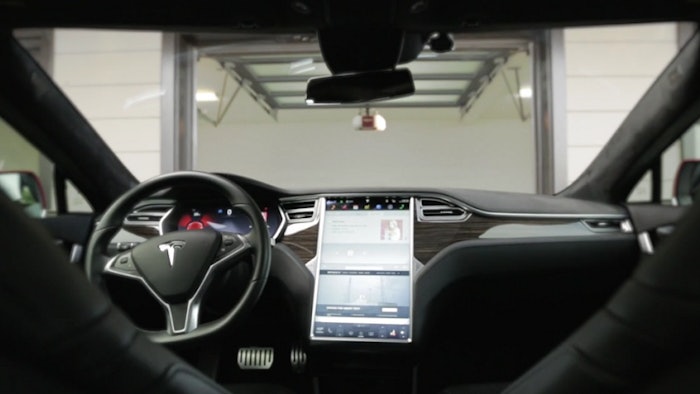 A Tesla Model S in Utah appears to have collided with a parked trailer due to activation of the self-parking Summon feature, according to local news outlet KSL.
The owner claims that he does not know what caused the feature to turn on, while Tesla insists that the car's own records show that Summon must have been manually activated.
Owner Jared Overton was running errands at the time, and had parked the car "well behind" a trailer. An onlooker asked him questions about the car as they both stood near the side of the road. They stood there for under a minute before going inside a nearby business, and when they returned to the car five minutes later, the Tesla had hit the trailer and gone slightly underneath it, smashing the windshield of the car against the bottom of the trailer.
Overton calls it a case of a "rogue vehicle." He reported the issue to Tesla, which said that the only conceivable explanation was that the Summon feature had been activated. According to on-board records, Summon turned on three seconds after Overton got out of the car – even though he never saw it move.
The Summon feature requires the driver to press the gear selector stalk button twice, shift from Drive to Park, and press Summon activation.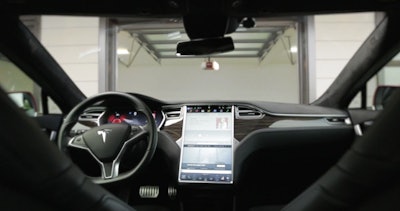 Overton said that he simply put the car in park and turned it off.
The Summon feature is technically still in beta, but a car that can drive itself is a completely different beast than, say, an app. Tesla released a statement to KSL that reminds owners that "Summon requires that you continually monitor your vehicle's movement and surroundings while it is in progress and that you remain prepared to stop the vehicle at any time using your key fob or mobile app or by pressing any door handle. You must maintain control and responsibility for your vehicle when using this feature and should only use it on private property."
The Summon feature also includes an audible chime to indicate when it's on.
Overton hasn't sworn off Tesla – he's gotten a loaner car while his is repaired. However, he emphasized that the situation could have been a lot worse. No one was injured – but it's more bad news for Tesla, which has recently faced recalls and lost two production executives.