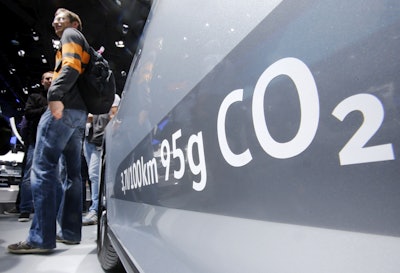 Attorneys for Volkswagen are expected to reveal where the company stands on a fix to bring nearly 600,000 diesel cars into compliance following an emissions cheating scandal.
Senior U.S. District Judge Charles Breyer is scheduled to get an update from the company's attorneys about its remediation efforts at a status conference on Thursday.
Breyer told Volkswagen attorney Robert Giuffra last month that he wanted to know by Thursday whether Volkswagen had come up with a fix for the cars that was technologically feasible and acceptable to the U.S. Environmental Protection Agency. He warned of consequences if Volkswagen didn't act quickly.
Volkswagen admitted in September that it intentionally defeated emissions tests and put dirty vehicles on the road. The cheating allowed cars to pass laboratory emissions tests while spewing levels of harmful nitrogen oxide at up to 40 times the level allowed when operating on real roads.
The Department of Justice has sued Volkswagen on behalf of the EPA. The company is also facing lawsuits from angry owners. Those cases are both before Breyer.
Breyer said during last month's hearing that six months was long enough to determine whether there was an engineering fix for the vehicles.
"It's not just that these vehicles on the road can't be sold or can't be crated," he said. "It is the fact that they are polluting, and therefore we must address it."
Volkswagen has been in talks with regulators about a solution for the vehicles. In January, the California Air Resources Board rejected Volkswagen's recall plan for some of its most popular diesel models, saying it was unacceptable for reasons including that it did not include adequate information about how the fix would affect future emissions results.
Michael Steel, an attorney at Morrison & Foerster who has advised car manufacturers about air quality matters, said Breyer may not be happy if Volkswagen has little progress to report. He said the judge could insert himself in the remediation process and propose his own solution.
"'I have you given you this amount of time, you haven't done what I asked you to do, I'm going to come up with my own order,'" Breyer might say, Steel said.
Attorneys for Volkswagen owners, meanwhile, are ratcheting up pressure on the company to find a fix for the cars by proposing a July trial on the issue. They have called on Volkswagen to buy the affected vehicles back.