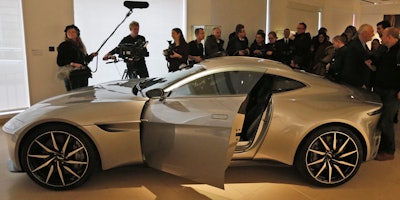 Aston Martin, the maker of the legendary sports cars long featured in James Bond films, has announced plans to open a new factory in Wales after looking at more than 20 other possible locations worldwide.
The decision means the hand-crafted specialty carmaker will have two production facilities in Britain. The other is in Gaydon, 90 miles northwest of London.
Aston Martin said Wednesday it will build a new model to be called the DBX at the Wales plant starting in 2020. It has built cars in England for more than a century.
The high performance Aston Martins have long been associated with the James Bond film franchise as the cars have been used by the 007 character since the 1960s.
The most famous was a DB5 driven by Sean Connery in "Goldfinger" that featured an ejector seat, revolving license plates, and other fanciful upgrades. Daniel Craig drove a DB10 model in the recent Bond film "Spectre."
Chief Executive Andrew Palmer said the company studied many other locations before deciding to build the new facility in Wales.
"We were consistently impressed with the focus on quality, cost and speed from the Welsh Government team," he said.
The company says more than 750 jobs will be created. Officials in Wales said the opening of the factory will mark the first time cars have been manufactured in Wales in nearly 50 years.
Aston Martin competes with Ferrari, Lamborghini, Jaguar and others in the luxury sports car market, a sector that has been growing in recent years.
The new factory will be located in St. Athan in south Wales, 170 miles west of London.