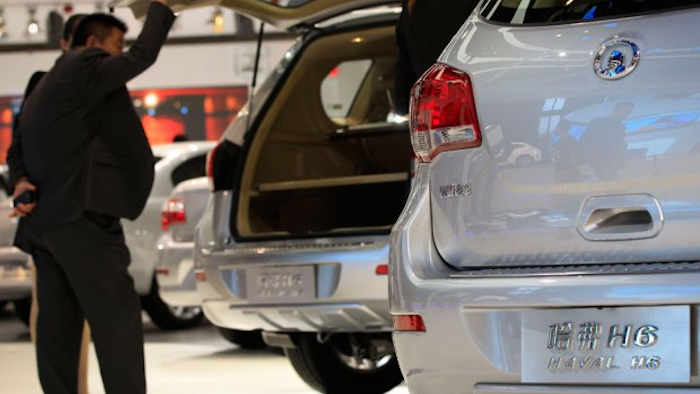 China's auto sales accelerated to this year's strongest growth in October after the market pulled out of a slump following a sales tax cut, data from an industry group showed Wednesday.
Purchases of sedans, SUVs and minivans in the biggest market by number of vehicles sold rose 13.3 percent to 1.9 million, according to the China Association of Automobile Manufacturers.
That was up from September's 3.3 percent growth, which followed three months of contraction.
Chinese auto sales growth that peaked at 45 percent in 2009 fell steadily as the world's second-largest economy cooled and major cities tried to curb smog and congestion by imposing limits on numbers of new vehicles allowed.
Growth rebounded after Beijing cut the sales tax in September on vehicles with engine sizes of 1.6 liters and below by half to 5 percent.
In October, sales of SUVs grew by an explosive 60.6 percent over a year earlier to 622,000 units, according to CAAM. Sales of sedans edged up 0.2 percent to just over 1 million.
Chinese brands that dominate smaller and lower-priced market segments grew as fast the market, reversing a trend of trailing global brands in growth and losing market share to them.
Total vehicle sales, including trucks and buses, rose 11.8 percent to 2.2 million units.
The sales decline was so unexpectedly severe that analysts who had forecast 7 to 8 percent growth this year slashed that to as low as 1.7 percent.
The slump was jarring for global automakers that are looking to China to drive sales. General Motors Co. and Volkswagen AG, the country's top-selling brands, cut prices to lure buyers.
—GM said sales of General Motors brand cars by the company and its Chinese partners rose 15 percent over a year earlier to a record 327,037 units. It said sales of Buick vehicles had their best month ever, rising 42 percent.
—Ford Motor Co. said sales rose 7 percent over a year ago to 95,185 vehicles.
—Nissan Motor Co. said sales rose 16.8 percent to 109,600 units.
—Toyota Motor Co. said sales nearly doubled to 103,400 vehicles. It said year-to-date sales were up 110 percent at 895,600.
—BMW AG, the country's most popular luxury brand, said sales of BMW and Mini brand vehicles rose 2.3 percent to 384,176.